August Birthstone: Le Vian's Peaceful Peridot
The August Birthstone: Peaceful Peridot
Welcome to August! The August Birthstone is the soft, peaceful Green Apple Peridot. Peridot is a symbol of balancing traits and culminates peace and health through harmonization of the mind and body. It is also believed to boost creativity and improve your mood! It is a perfect gemstone for self-care and love, with a focus on clarity in life. The Peridot is a clear, transparent gemstone with a rich and bright green-yellow color. It's comparable to plants, freshly cut grass, or crisp green apples!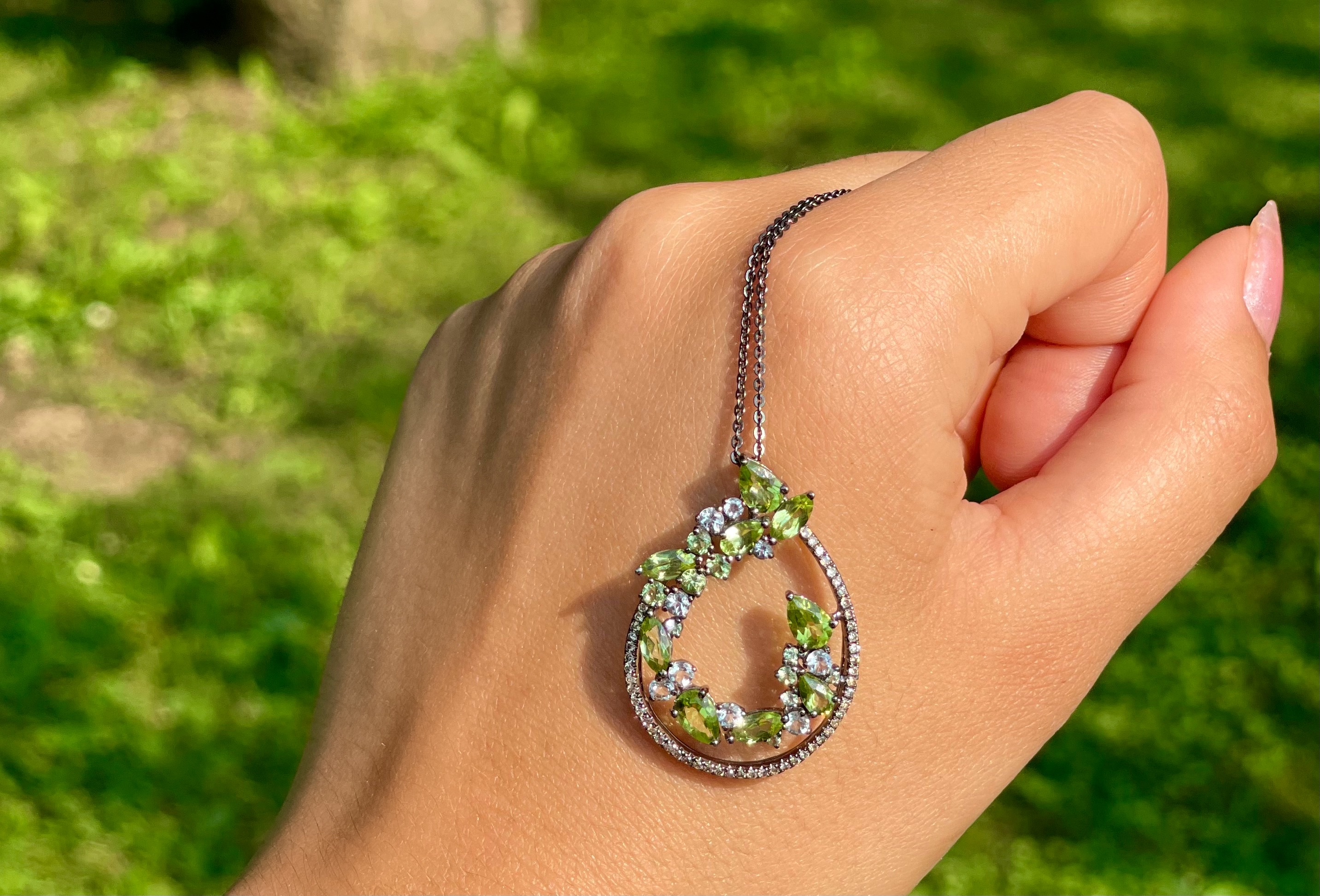 Peridot belongs to the Olivine mineral group of gemstones that all have the same crystal structure, but varied chemical compositions. The vibrant green color of Peridot comes from the amount of ferrous iron present in this stone's chemical composition! Peridot can also be found in yellow-green, brown-green, or pure brown shades, but these color varieties are much less vibrant and desirable!
Le Vian Green Apple Peridot has a subtle yellow tinge that adds a sunny quality reminiscent of the dappled sunlight you'd find in a dense forest. Peridot is a beautiful reminder of the spring and summer months and of the rich plants and greenery that accompany them!
The Power of Peridot
Peridot has a powerful history of rich and unique stories. It is known as the stone of compassion and is said to calm anger by restoring balance and giving renewal and rejuvenation. It was traditionally believed, since early civilizations, that when set in gold and worn on the left arm or neck, Peridot would protect its wearer from evil and nightmares. Due to its powerful and illuminating traits, it was called the "gem of the sun" by Ancient Egyptians. It was also used as a charm against sorcery and magic, evil spirits, and madness, and to cure unfavorable emotions such as cowardice, sorrow, and anger.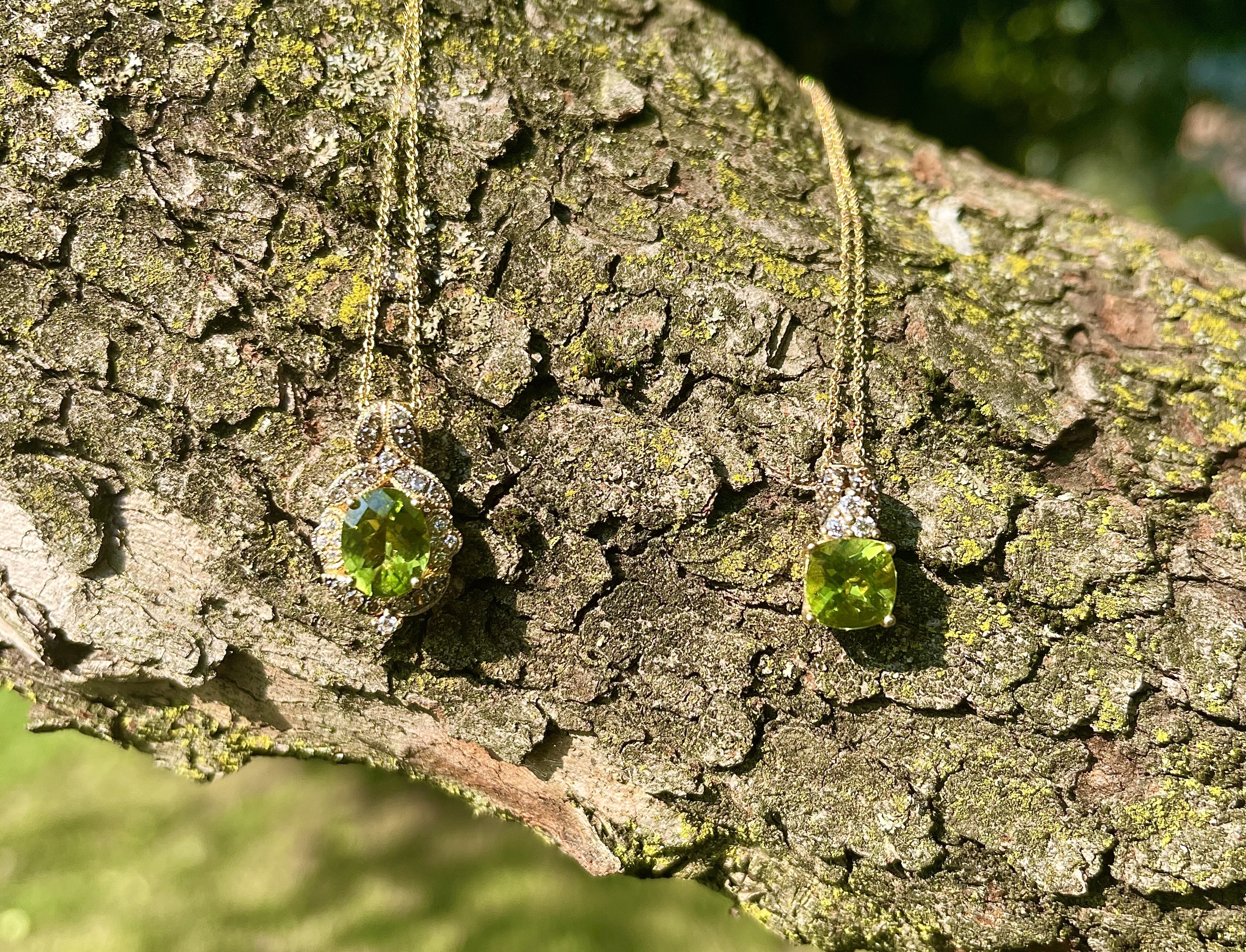 The Peridot gemstone was treasured in Ancient Egypt and is considered one of the world's oldest gemstones. It was mined from deposits on the small, volcanic island of Topazios in the Red Sea. This island is now known as Zebargad or St. John's Island! The location of this mysterious island was kept a secret by the Ancient Egyptians, as it housed their most precious gemstone. After the fall of the Egyptian empire, the island became lost and unclaimed. Only recently in 1906 was it rediscovered, and was the beautiful Peridot gemstone unearthed!
Trace amounts of Peridot have been found on the soft, sunny beaches of Hawaii. They are often tiny and mixed with grains of sand, making them difficult to form into jewelry. Hawaiians connect these Peridot particles with the goddess of fire, Pele, and refer to them as her tears.
Summer Peridot
One of our exclusive and most unique Le Vian Peridot Pieces is the Le Vian Ombré Tsavorite/Peridot/Quartz Earrings 14K Strawberry Gold. These earrings glow with the greenery of Peridot but are also accented with Tsavorite and Quartz. The variety of gemstones form a gentle gradient, from deep green to soft green to a light, airy white hue. The Strawberry Gold setting is a gentle backdrop to these elegant earrings. This pair forms the shape of two dangling palm leaves—a perfect way to embrace the tropical feel of the summer! These earrings would pair beautifully with a maxi sundress and heels or sandals of your choice. Check them out below!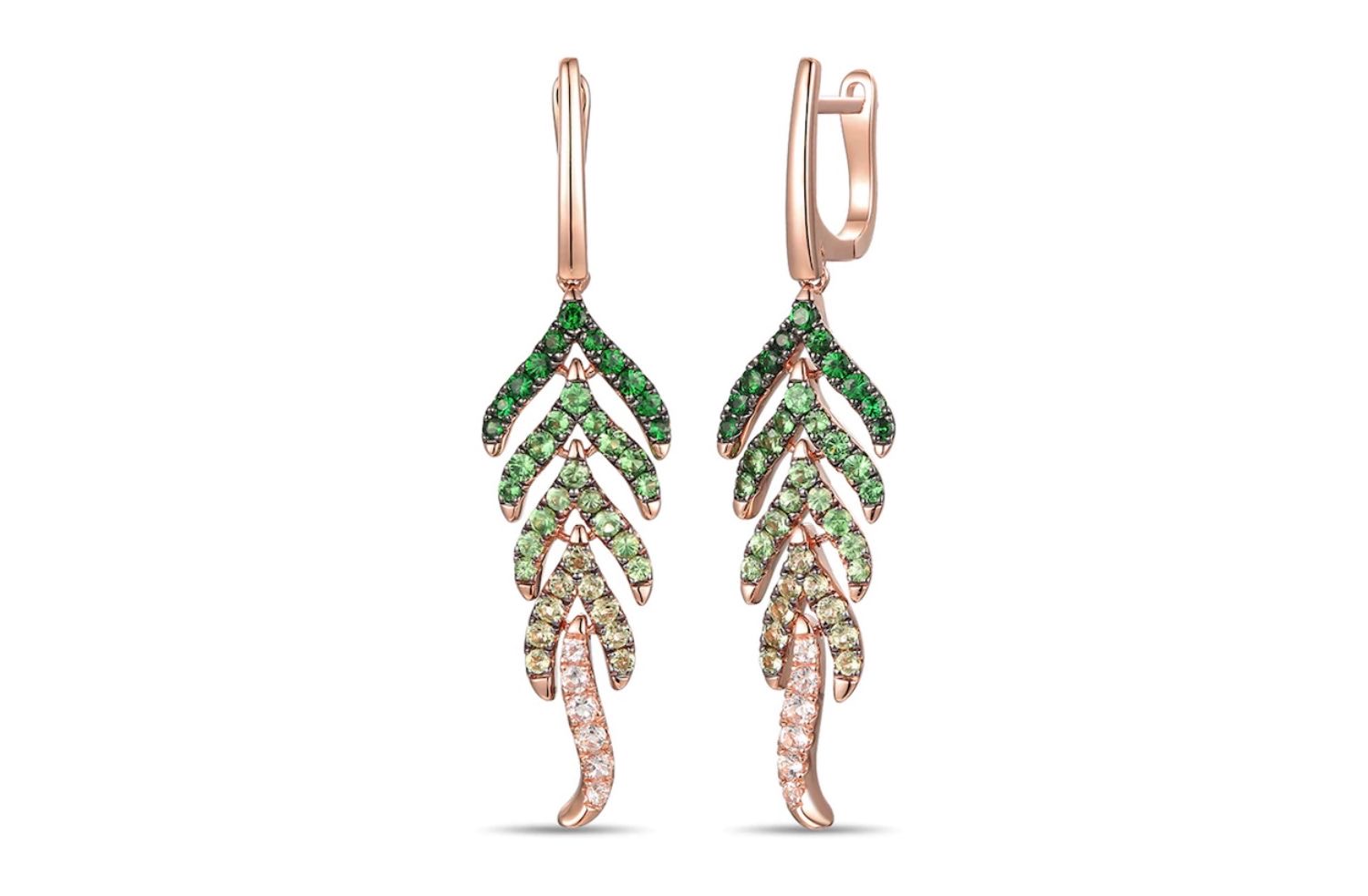 One of our exclusive and most unique Le Vian Peridot Pieces is the Green Apple® Peridot (1-1/6 ct. t.w. ) & Vanilla and Chocolate Diamond (1/6 ct. t.w.) Ring in 14k Strawberry Gold. This ring is a simple, classic ring featuring a grand Peridot in the center. This gemstone is named the Green Apple Peridot after its bright and crisp green color akin to a juicy green apple! It is accented by petite Vanilla and Chocolate Diamonds, forming leaf-like shapes on each side of the center stone. This ring is set in Strawberry Gold, adding to its sweetness and warm tones surrounding the Peridot. It is an everyday piece that can be worn with many kinds of clothing or in any season. View it below!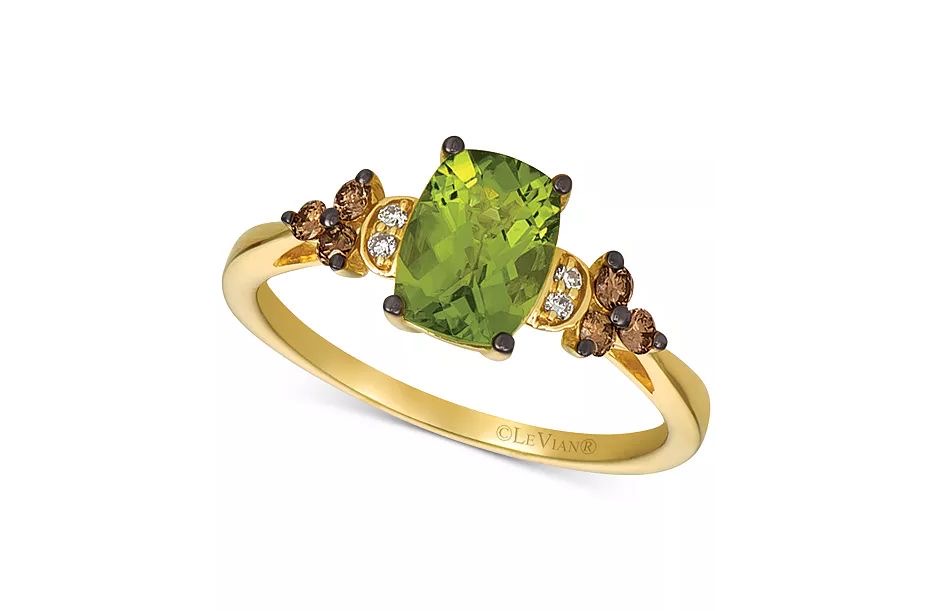 Embracing the Qualities of Peridot
In this month of August, take time to form harmony and balance in your everyday life. Simple and enjoyable activities such as yoga, meditation, and dance can connect your mind and body and help you bloom with the attributes that Peridot embraces. Reading, painting, and creating or listening to music connect you with the creative aspect of Peridot.
As the summer shines on and your life energizes, be sure to focus on your well-being and happiness. Wear your Le Vian Green Apple Peridot to refresh yourself and those around you with the greenery of nature, and as a daily reminder of the harmony, peace, and creativity that you will cultivate today and every day!