Le Vian Jewelry Spotted at the American Music Awards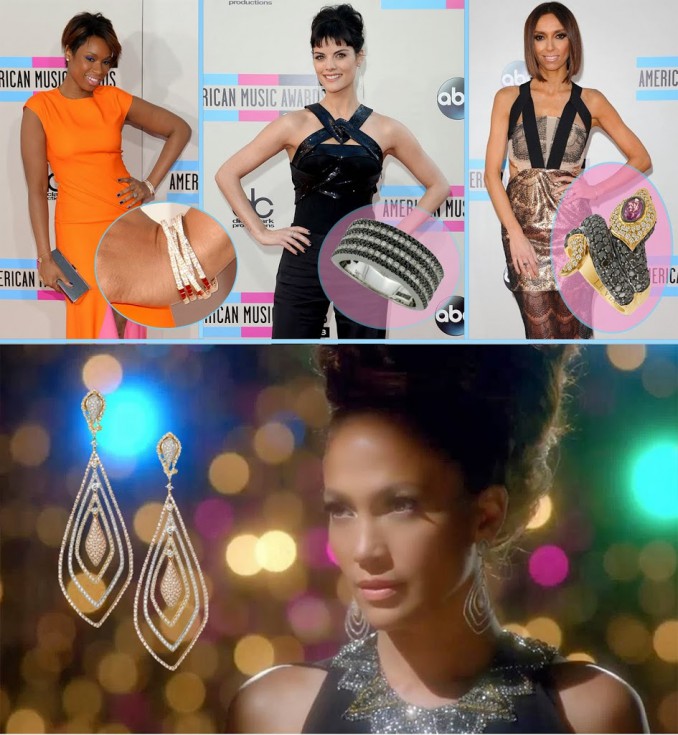 Le Vian® jewelry rocked the red carpet and sparkled during the 2013 American Music Awards at the Nokia Theatre L.A. Live on Sunday, November 24th .  
Spotted on the red carpet (left to right): 
Academy Award winning actress and singer Jennifer Hudson wore Le Vian®'s Super Gladiator® Vanilla Diamonds® bracelet which sparkled brightly with her tangerine and hot pink Christian Dior dress.
Actress Jaimie Alexander wore a body hugging all black vintage Armani outfit and accessorized with a
simply stunning striped Blackberry Diamonds® and Vanilla Diamonds® band (ZUAP 26) by Le Vian®.
E! News television personality Giuliana Rancic who was covering the red carpet arrivals at the AMAs for the first time, chose a Le Vian® Blackberry Diamonds® and Pink Sapphire Snake Ring (YOSZ 142) to complement her Three Floor cocktail dress which shimmered in gold and black lace.  Rancic completed the look with a latte flavored polish for her fingers and edgy black for her toes which were laced in gladiator inspired heels.  
During the event, actress/singer Jennifer Lopez sparkled in Le Vian Couture® Strawberry, Vanilla and Honey Gold chandelier earrings (SOAC 12) studded with over 9 carats of diamonds.