November Birthstone: Captivating Citrine
November Birthstone: Captivating Citrine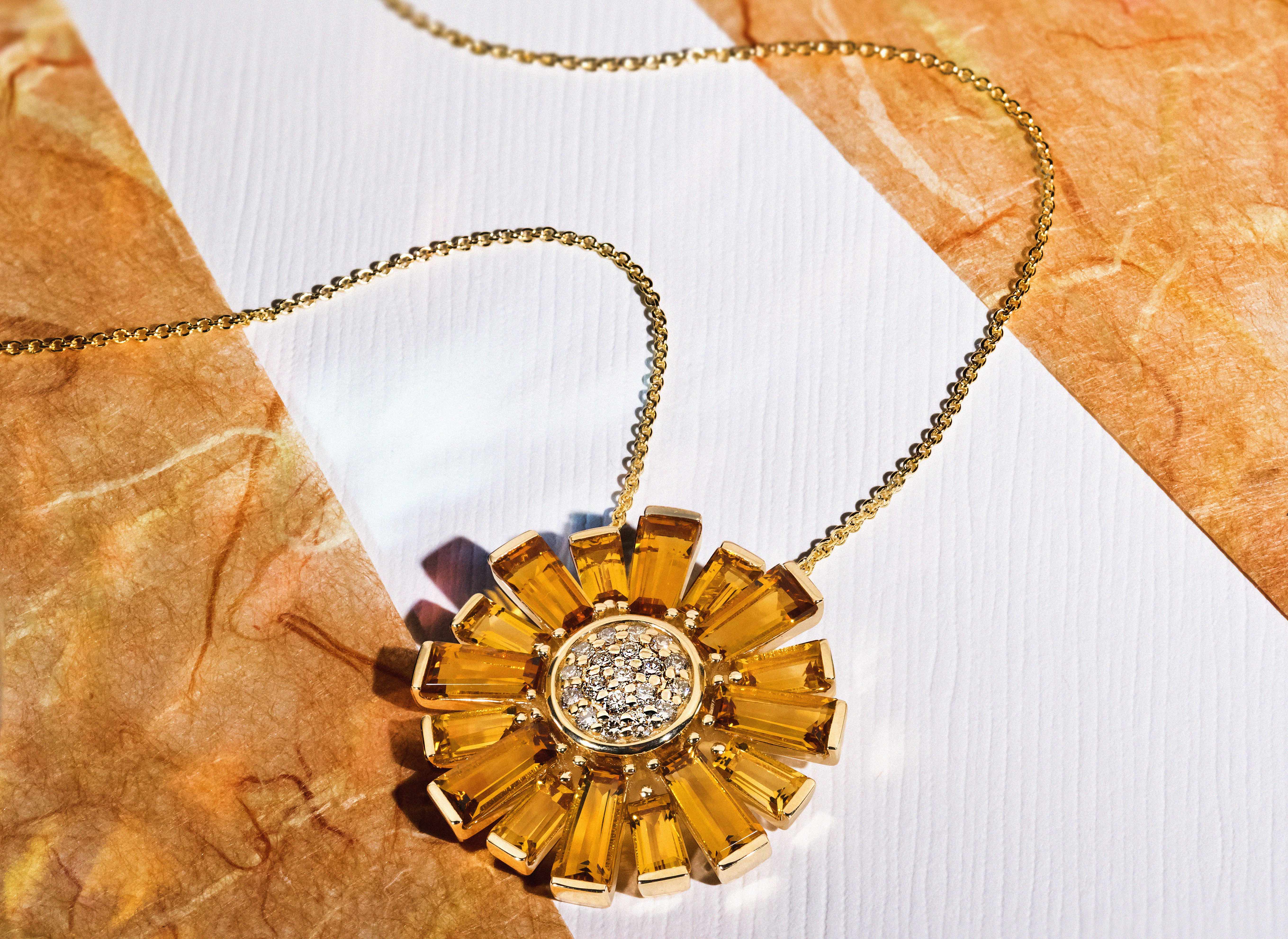 Welcome to November! This month in the depth of fall brings rich, warm colors and delicate autumnal changes. Make way for the harvest season, bringing comforting home cooking, time with family, shopping, and a figure skate into the cheery winter. Spice up your November with this month's birthstone—Citrine!
Citrine is the November Birthstone, and an everlasting symbol of hope, happiness, hospitality, and friendship. Its cheerful and sunny color connotes warm and powerful values and promotes positive energy. When worn close to the heart, such as in a necklace or pendant, Citrine is said to increase self-esteem and bring emotional harmony and good fortune.
The color of Citrine is a gentle, brown-ish orange with hues of pale yellow. Citrine is a transparent stone, and when light shines through it, its warm colors glow like the sun! Citrine varies in hue as well, sometimes holding more tones of red, yellow, brown, or orange. Citrine's sun-drenched colors occur due to trace amounts of iron in the gemstone's structure.
Le Vian's rich stones of Citrine are named Cinnamon Citrine®, each enchanted with sugar and spice. Cinnamon Citrine® is enveloped with a vibrant orange tone and a sweet warmth like the aromatic spice itself! Le Vian Cinnamon Citrine® pieces come in a variety of shapes, sizes, and styles, from statement rings to floral necklaces to earrings like drops of sun.
The Origins of Citrine
Citrine has been used as an embellishment and ornate treasure for thousands of years. In Ancient Greece, Citrine was used as a decorative gem. In 17th century Scotland, Scottish men decorated the handles of their daggers and swords with glistening Citrine. Recently, in the Art Deco era, Citrine was popularly worn by film stars as elaborate, statement jewelry.
In ancient times, it was believed that Citrine possessed powerful properties. People believed that Citrine gemstones could soothe anger, calm tumultuous tempers, and manifest desires and prosperity. Ancient people had their own way of harnessing these powers—Egyptians used Citrine gemstones as talismans, Greeks carved iconic images into them, and Roman priests fashioned them into rings.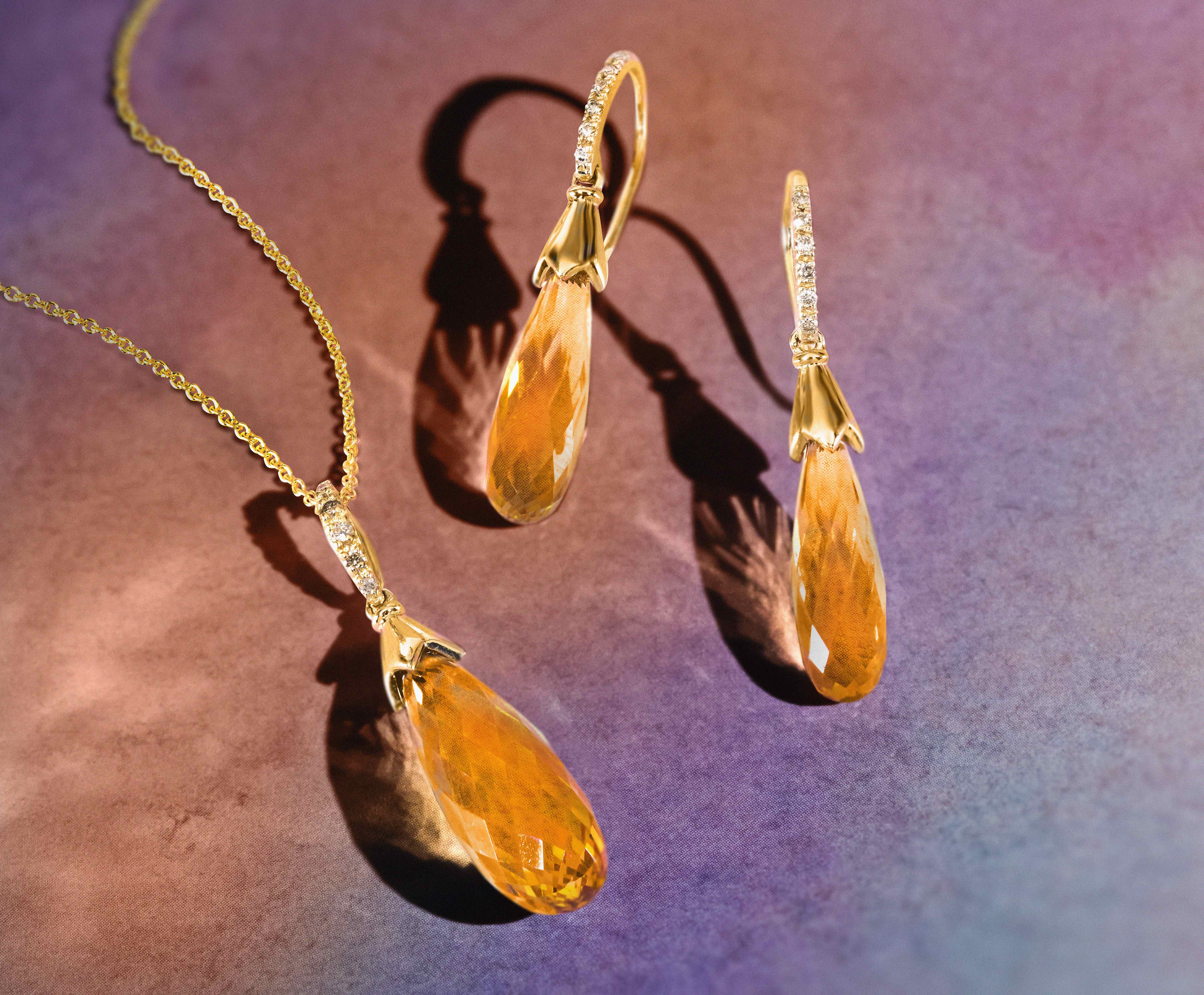 The Spice of Cinnamon Citrine
Le Vian has an abundant array of luxurious Cinnamon Citrine® pieces, from ornate to elegant to statement—whatever your heart desires! This year, Cinnamon Citrine® was chosen as a Le Vian 2021 Trend gemstone, symbolizing Positivity and Sunny Days Ahead. With this trend came new and elaborate Cinnamon Citrine® pieces, such as these highlighted and signature pieces!
This statement Cinnamon Citrine® ring embodies the fruitfulness and florality of colorful nature. A large center stone of Cinnamon Citrine® sits in an elegant structure of rich and sweet 14K Honey Gold™. This gemstone is surrounded by leaves of Passion Fruit Tourmaline™, Blue Topaz, Forest Green Tsavorite™, Chocolate Quartz®, and Nude Diamonds™. Warm colors blend together in a delicious and sunny arrangement, with pops of color from multi-colored gemstones. See this ring below!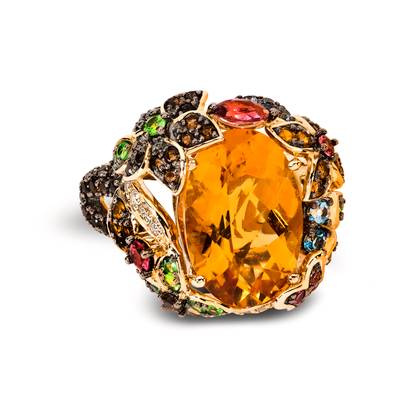 This Cinnamon Citrine® Pendant Necklace is a radiant statement piece embodying sunshine and bloom. Petals of pure Cinnamon Citrine® come together to meet at a pollinated center of specks of Nude Diamonds™. This pendant is set in 14K Honey Gold, which embraces each petal and beautifully details the piece. Honey Gold ties the floral nature of this necklace together, reminding us of the bees that hop and sip from flower to flower. This pendant is akin to an extravagant flower and may look like a sun with rays of radiance. Check it out below!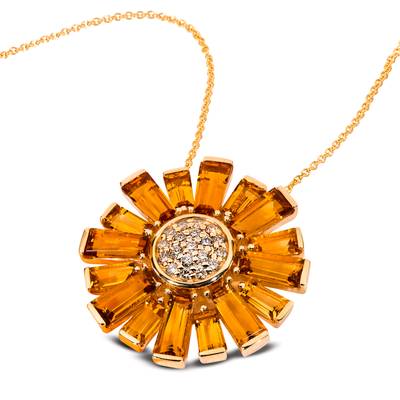 Cinnamon Citrine® All November Long!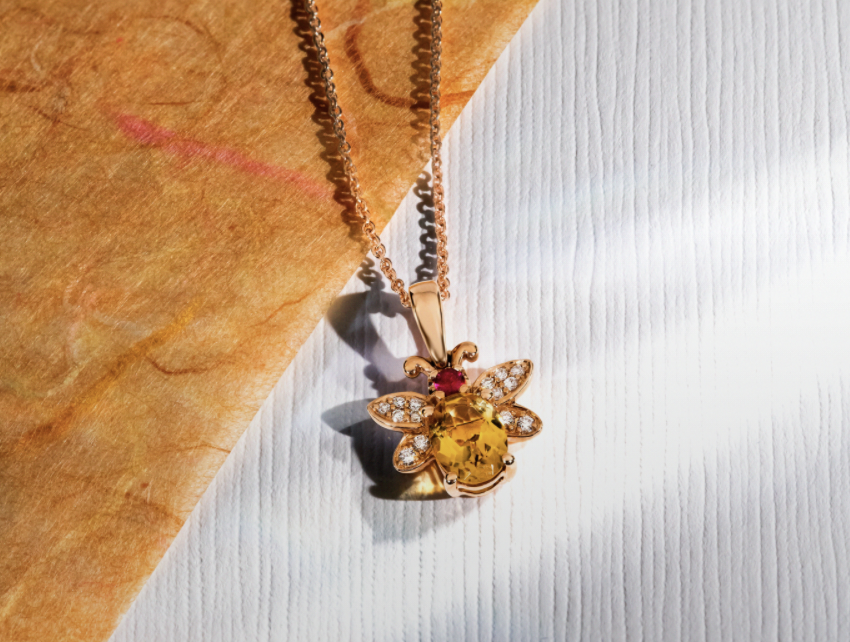 This November, gift your outfits with luminous drops of sun shining in each Cinnamon Citrine® piece. A chill to the air urges us to reminisce and ground ourselves in the warmth of the summer and fall. Embrace the loving values of Cinnamon Citrine®, including hope, hospitality, happiness, and friendship. Invite friends and family to your home for tea or wine in a cozy gathering, or perhaps even a holiday celebration! Enjoy the changes of the season with brisk walks in local plazas or trails. Listen to new music, watch new productions, and discover new art.
Incorporate Cinnamon Citrine® in your wardrobe, and pair it with your favorite outfits! The warm, natural orange and yellow hue with a tinge of softly spiced brown pairs beautifully with your closet's colors of November, such as merlot reds, cocoa browns, and gentle grays. Statement pieces are perfect accents to simple outfits and give pops of style and color! If you prefer simple, elegant pieces, opt for smaller and more understated Cinnamon Citrine® instead, like petite rings and detailed earrings. Find the spice of Cinnamon Citrine® that satisfies your sweet tooth!