Father's Day Gift Guide: Le Vian Men's Rings
Father's Day Fashion: Le Vian Men's Rings
Father's Day is coming soon, and we want to take a moment to recognize all of the loving, nurturing, and supportive fathers and father figures. On this day, we aim to spend special time with our fathers and to strengthen our bonds of love. This father's day, we want to let our fathers know how much we truly love and appreciate them, with quality time, affection, fun-filled activities, and of course, gifts!

A meaningful gift for fathers is a Le Vian ring from our collection of sleek, elegant men's rings. These rings are in the shape of bands—akin to wedding bands—that can be worn every day as a staple piece!
The Variety of Le Vian Men's Rings
Our men's rings come in a variety of styles. The settings vary, including options of traditional gold, Vanilla Gold, Strawberry Gold, Honey Gold, and Sterling Silver. For a more modern, urban look, Vanilla Gold and Sterling Silver rings are the go-to options, brilliantly accenting any outfit. For a radiant, warm look, traditional gold, Strawberry Gold, and Honey Gold rings are better suited, and they add a rich flair to outfits.
One of our most elegant gold men's rings is the Le Vian Men's Diamond Ring 7/8 ct tw 14K Strawberry Gold. It has a thick, sturdy Strawberry Gold setting that forms a peak to present three soft, sparkling rows of Nude Diamonds. It has exquisite detail and is truly a stand-out piece, perfect for nights out, gatherings, or even an everyday staple. Check it out below!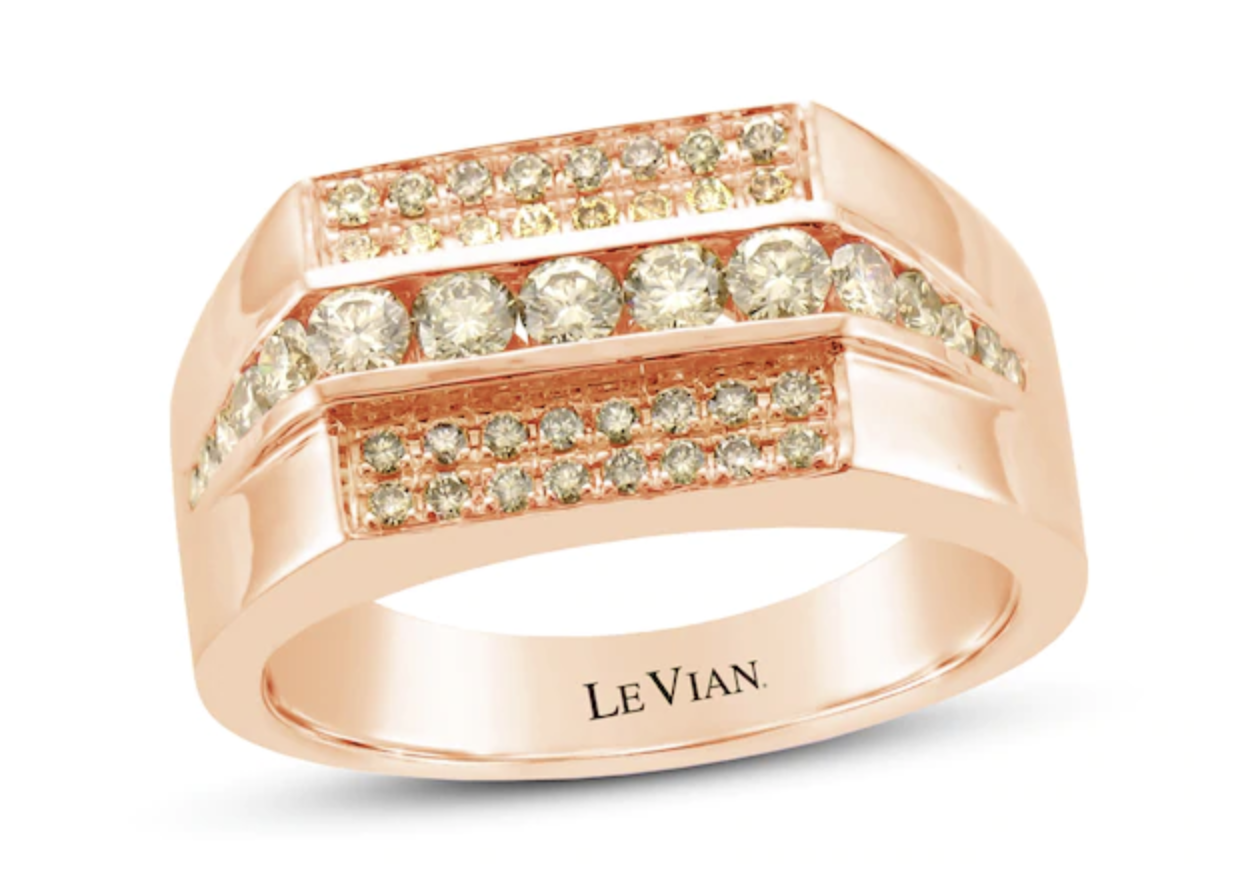 Le Vian men's rings are adorned with a variety of different gemstones as well. Some of our men's rings are embellished with subtle diamonds, including Nude Diamonds. Other rings are enriched with sweet Chocolate Diamonds, traditional Sapphire, Ceylon Sapphire, Blue Topaz, Pomegranate Garnet, and Aquaprase.

One of our statement men's rings that highlights our radiant gemstones is the Le Vian Men's Natural Aquaprase Ring 1/5 ct tw Diamonds 14K Honey Gold. This ring has a wide, grand Honey Gold® setting fit for a king. The rich gold surrounds a great cushion-cut Peacock Aquaprase™ center stone framed by irresistible Vanilla Diamonds® and flanked by sweet Chocolate Diamonds®. This ring is an elegant piece, perfect for the summer, that evokes memories of the ocean with waves of [iridescent], blue-green Aquaprase. Take a look below!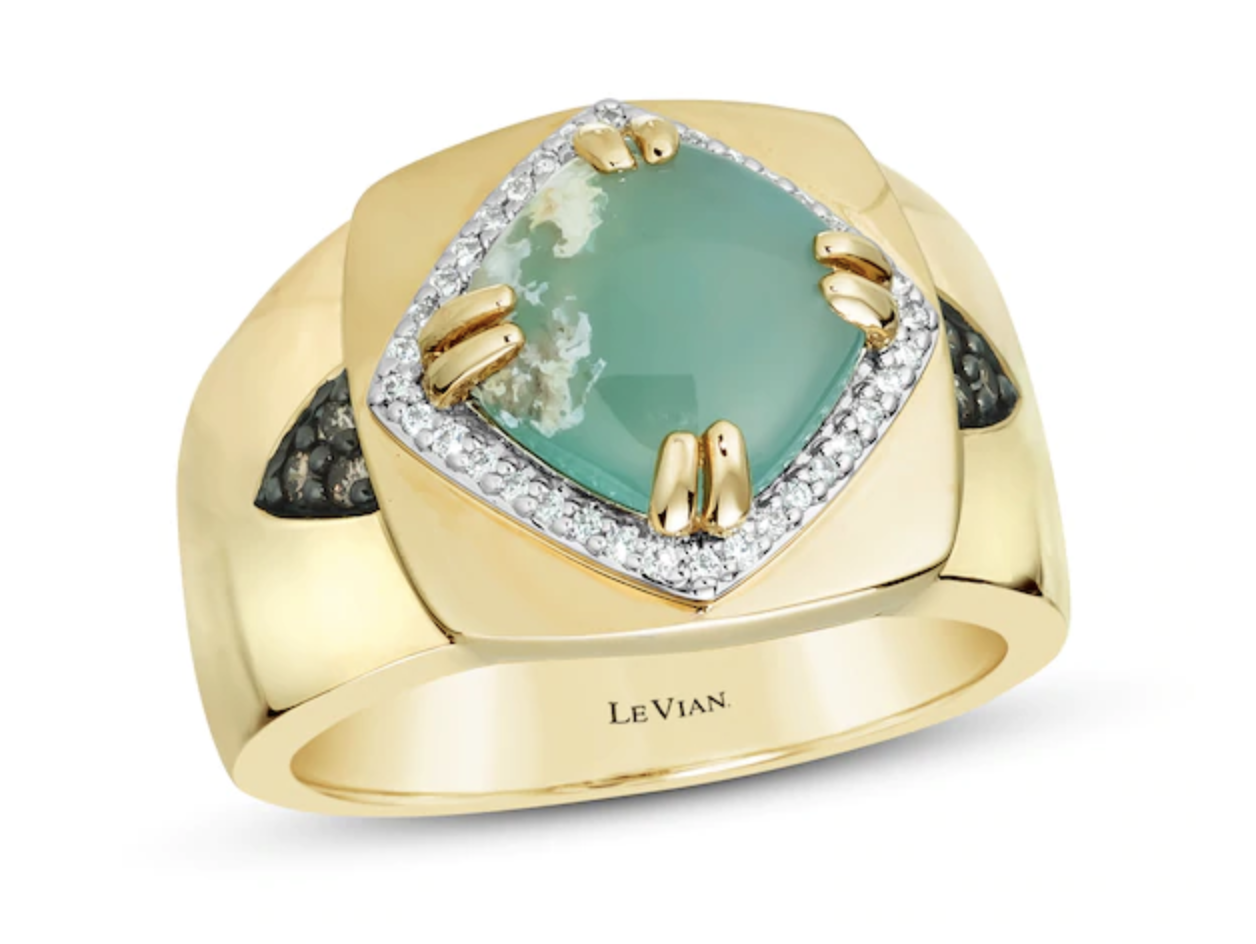 The Endless Expanse of Men's Style
With style ever-changing and evolving, more men have come to wear unique variants of clothing and accessories. Men's jewelry is at the forefront of this growth, with so many new and varied options for men to choose from. Jewelry is a suave accent to dress suits, collared shirts, and even summer styles such as Hawaiian shirts and colorful button-ups. Aquaprase is an oceanic, subtle accent to summer outfits, while pieces with Pomegranate Garnet give a pop of color perfect for urban, nighttime soirees.
This Father's Day, a piece of Le Vian jewelry would be a perfect gift for the special father in your life. A ring of rich Aquaprase, Topaz, Sapphire, or Diamond would be a flawless accent to your father's wardrobe. Whether he is a man preferring a statement stone ring or a simple, subtle band, Le Vian has endless options for him. Gift your father with a ring that will shine on his hand and remind him of you and your boundless love!