Le Vian's Wonderful World Of Chocolate
Le Vian's Wonderful World Of Chocolate Diamonds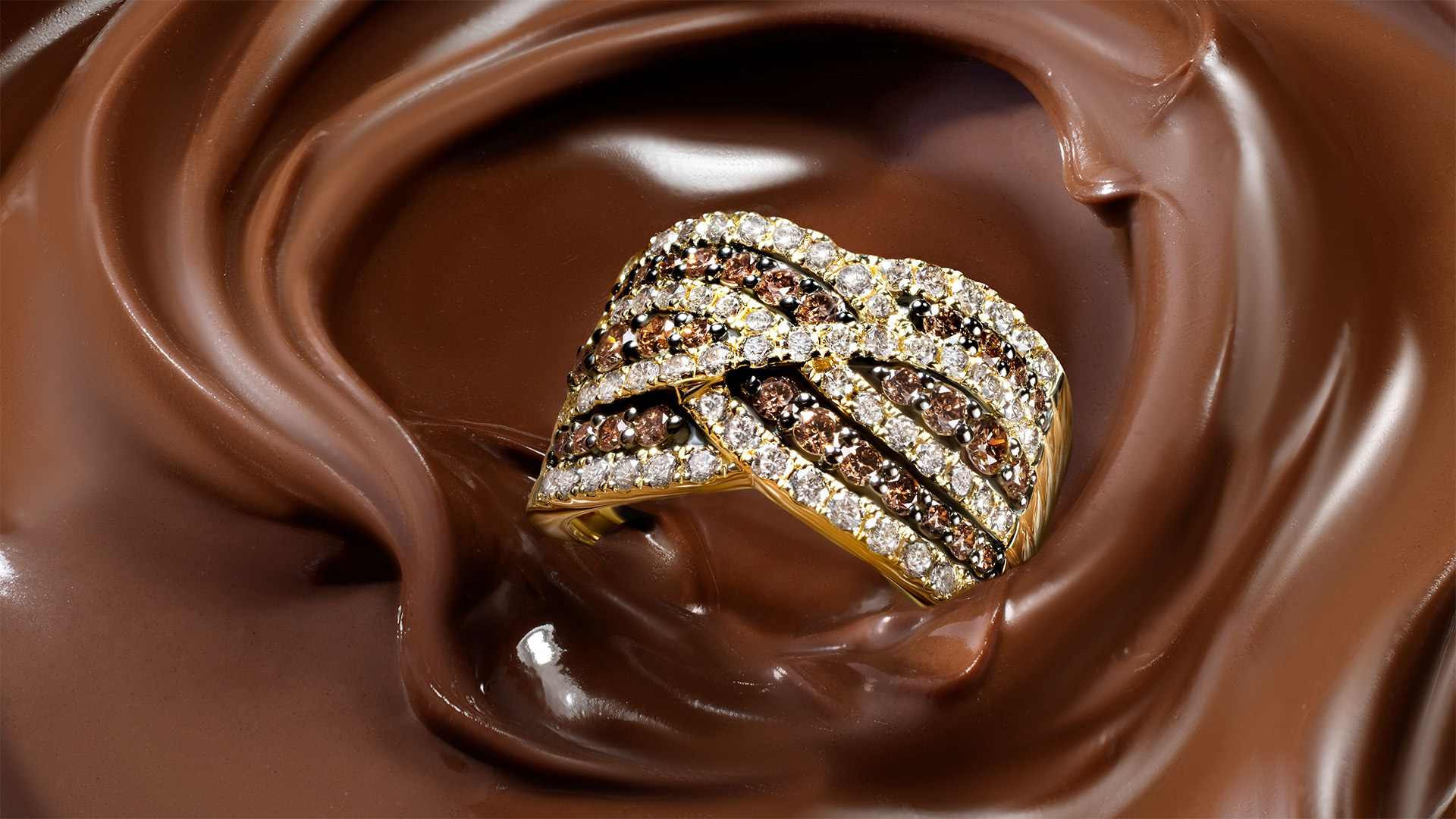 Indulge in the luxurious world of Chocolate Diamonds® by Le Vian! These rich and flavourful brown hues are unlike any other fancy brown diamonds, possessing unique qualities that make them highly coveted by fine jewelry lovers.
In this article, we'll uncover the secrets behind Chocolate Diamonds® and showcase a few pieces from three of Le Vian's newest collections featuring breathtakingly innovative designs.
Brown diamonds and chocolate diamonds: The difference?
First and foremost, it's crucial to understand that not every brown diamond can qualify as a Chocolate Diamond® — the latter is distinguished by a set of unique color ranges and gem quality characteristics when sourced responsibly.
To be considered a Chocolate Diamond®, they must adhere to specific guidelines set by both licensed manufacturers and official gemstone charts.
Brown diamonds can vary in shade, from very light to dark. However, it's fair to disclose that a large number of brown diamonds aren't the most appealing for fine jewelry, having a dull texture with too many inclusions, for instance.
Le Vian® carefully selects natural brown diamonds that fall within the C4-C7 range on the Argyle color scale and are rated SI (slightly included) or higher on the GIA clarity scale. We aim somewhere in the medium to the dark range while looking for that warm, sunset golden hue in them.
Diamond qualities such as clarity and cut are vital to meet Le Vian's exacting standards.
We aim to ensure each stone's facets emit maximum brilliance, with subtle rays in spectacular brownish or golden hues on every movement.
Only the finest natural brown diamonds can meet these stringent criteria and earn the coveted title of Chocolate Diamond®.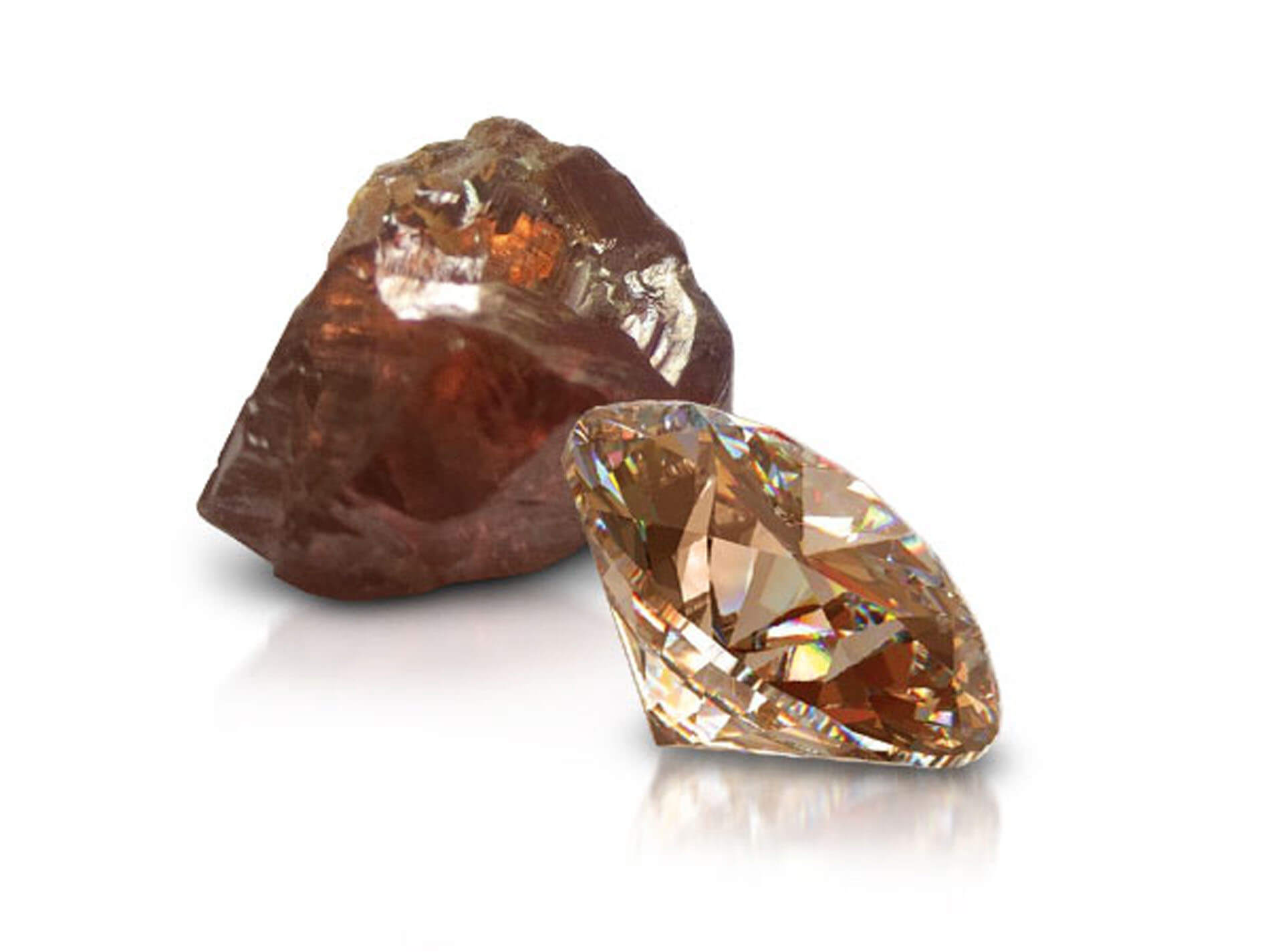 How rare are chocolate diamonds?
Chocolate Diamonds are a rare and coveted type of brown diamond that is approximately 10,000 times less common than the typical colorless diamond — and have gained popularity among celebrities for over a decade now.
As mentioned earlier, these richly-colored brown diamonds are held to high standards in terms of specific hue intensities, clarity, cut, manufacturing, and inclusion levels to rank as a Chocolate Diamond®.
In fact, it is difficult to find brown diamonds that meet the above stringent requirements, leading to a limited number of Chocolate Diamonds® worldwide.
For instance, in 2019, fewer than 1,000 Chocolate Diamonds® weighing at least .5 carats were mined globally, in comparison to the 70 million white diamonds produced of the same size that same year.
The iconic Australian Argyle diamond mine, a major contributor to global diamond production, has recently closed down, leading to a decrease in the supply of pink and brown diamonds by 90%. As Chocolate Diamonds® become rarer, their value is likely to increase.
By purchasing Chocolate Diamonds®, you are investing in exceptional designer pieces that are likely to appreciate in the future.
What do chocolate diamonds symbolize?
Chocolate Diamonds® are prized for their symbolism of order, stability, balance, and clarity. It is believed that wearing a brown diamond can help one feel connected to nature and cultivate inner strength by promoting a sense of being grounded.
Chocolate Diamonds® are often associated with luxury, sophistication, and extravagance. They can equally be seen as a symbol of wealth and success.
In addition to their aesthetic appeal, these carefully selected brown diamonds are known for their ability to attract serendipity and harmony in your life.
Flowing Luxury: Chocolate Waterfall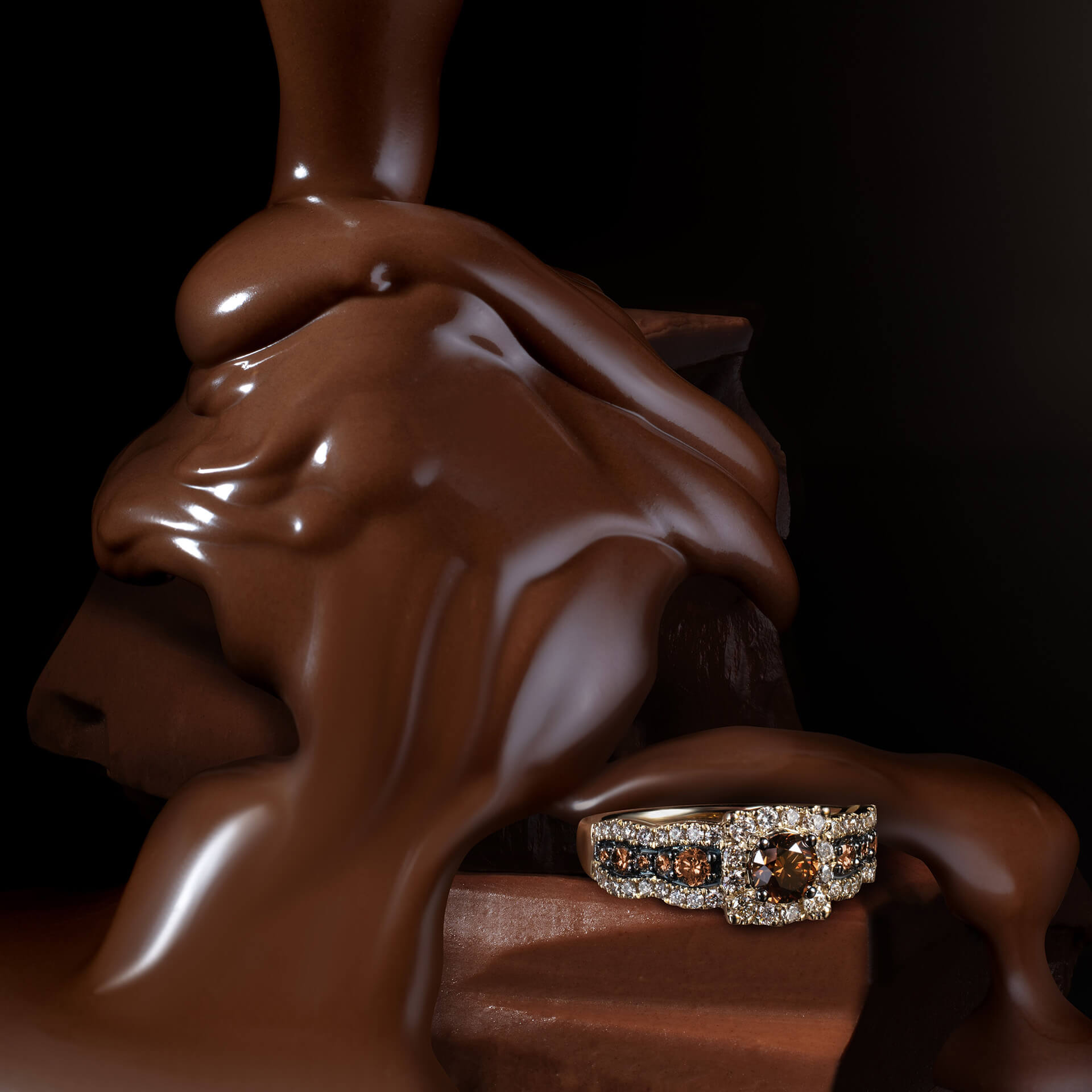 How about a piece of Chocolate Waterfall with golden-hued brown diamonds as water droplets for a treat?
Introducing the Chocolate Waterfall Collection — a flavorsome blend of glamour and sophistication inspired by the rich, velvety texture of flowing cascades of delicious Chocolate Diamonds®.
Each piece has been carefully crafted with the finest materials to create a truly indulgent experience for the wearer.
The collection features a range of halo chocolate diamond rings with mesmerizing waterfall-like side stones for a stunning everyday design.
Additionally, it comes with an alternative version featuring a chocolate diamond necklace and ring set in Grape Amethyst™ and Nude Diamonds™.
Whether you're looking to add a touch of luxury to your everyday look or make a bold statement at your next special event, the Chocolate Waterfall Collection is sure to have something spectacular and electrifying to offer for everyone.
The Sweetest Bond: Chocolate Twist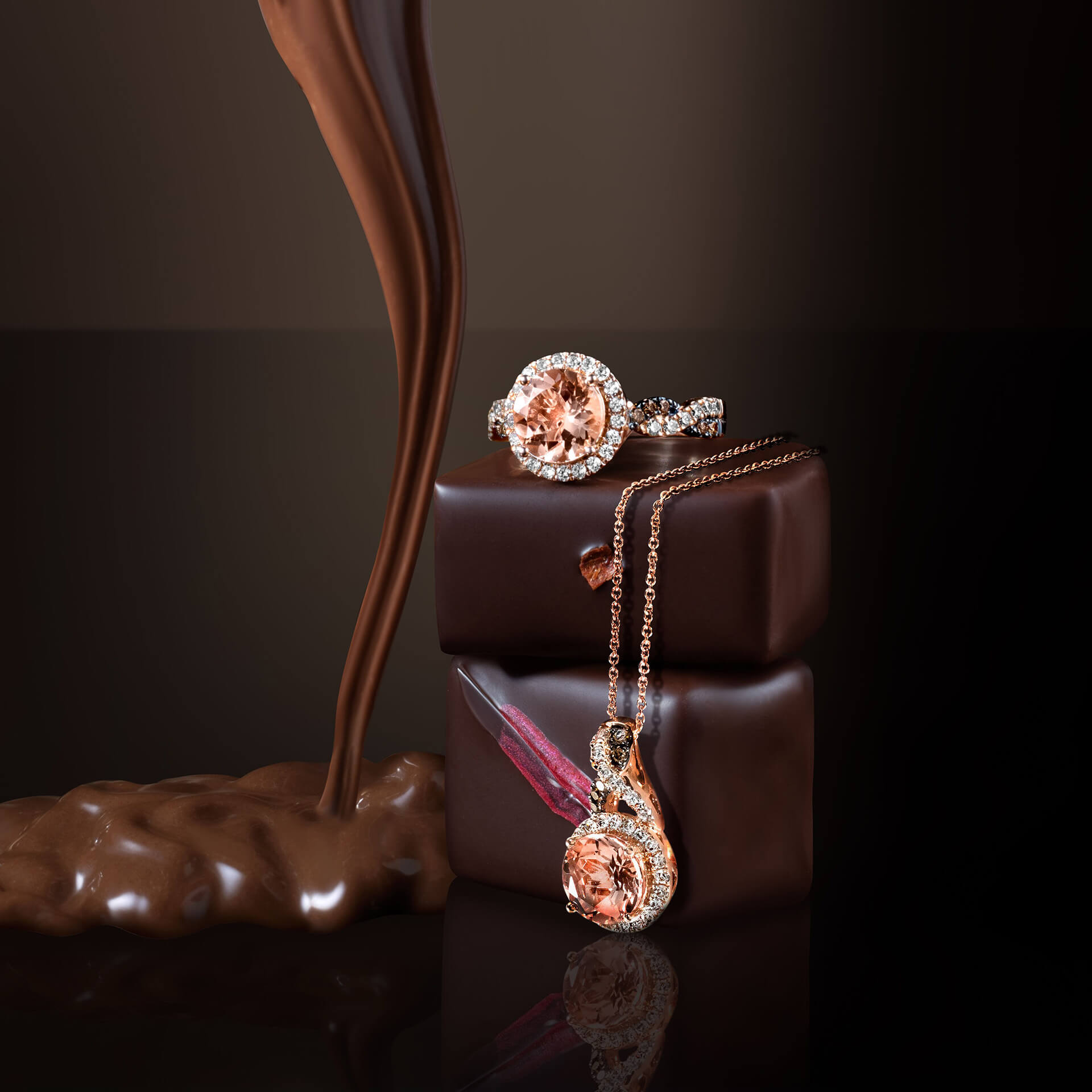 Adorn your outfit with a fascinating piece of chocolate diamond jewelry intertwined with the delicious combination of dark and white chocolate flavors and bright-colored gemstones!
Le Vian's Chocolate Twist Collection features exquisite chocolate diamond earrings, necklaces, and chocolate diamond rings with lavish swirling patterns present in the design elements of each piece.
Captivating, detailed, and decadent; here are three words to characterize the Twist Collection, Le Vian's latest addition to the house's World of Chocolate Diamonds®.
Are you looking to add a twist to your proposal? A chocolate diamond engagement ring with a twisted pavé band that's a complete stunner will do!
The line includes exotic and captivating ring and necklace sets of Chocolate Quartz®, Peach Morganite™, Blueberry Sapphire™, and Costa Smeralda Emeralds™.
A Bundle Of Love: Wrapped In Chocolate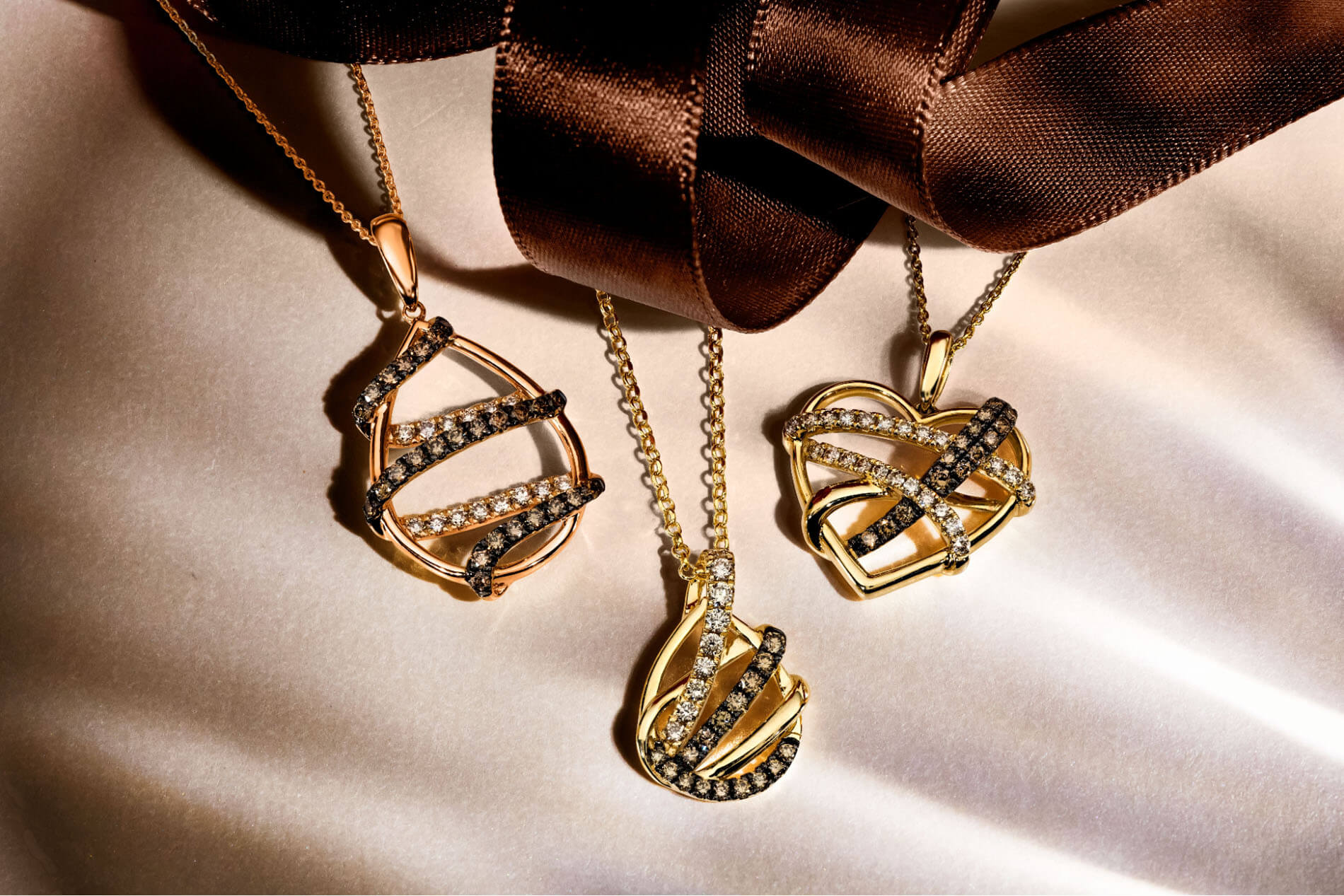 Ribbons of sumptuous Chocolate Diamonds® and Nude Diamonds™ wrapping over each piece like lines of chocolate drizzles — make way for Le Vian's Wrapped In Chocolate Collection.
The pavé-set diamond accents embody creamy ganache that spills on a selection of masterfully crafted pieces of fine chocolates — delightfully completing your stylish outfit!
These unique and indulgent pieces are designed to evoke a sense of euphoria with rich tactile designs that tantalize the senses.
Each Wrapped In Chocolate piece features elegant ribbons of Chocolate Diamonds and Nude Diamonds wrapped around and set in 14K or 18K Honey Gold.
Some pieces in this extraordinary collection include Passion Ruby™ and Deep Sea Blue Topaz™, which create an elegantly creative and classy look. Whether you're treating yourself or a loved one with a surprise gift, Wrapped In Chocolate is the perfect choice for those who appreciate the finer things in life.
Conclusion
Remember that not all brown diamonds can be considered Chocolate Diamonds® by Le Vian. The company carefully selects diamonds for this brand, focusing on unique attributes such as warm colors, rarity, and overall quality, including inclusion gradings, stone-cutting, and natural radiance.
We hope this article was valuable to you and inspired the jewelry enthusiast's wishlist making. Explore our deliciously curated selection of tasty Chocolate Diamonds® and pick your own treat!
Alternatively, it can make an unforgettable and awe-inspiring gift that's sure to put a smile on her face the second she opens her Le Vian box!