March Birthstone: The Shapes of Sea Blue Aquamarine®
March Birthstone: The Shapes of Sea Blue Aquamarine®
Welcome to March, the first month of Spring! This month, we celebrate growth and blossoming, within nature around us and in every person. Le Vian's birthstone of March is the airy and alluring Sea Blue Aquamarine®. Aquamarine is the first of the spring birthstones, and represents powerful transformation and rebirth.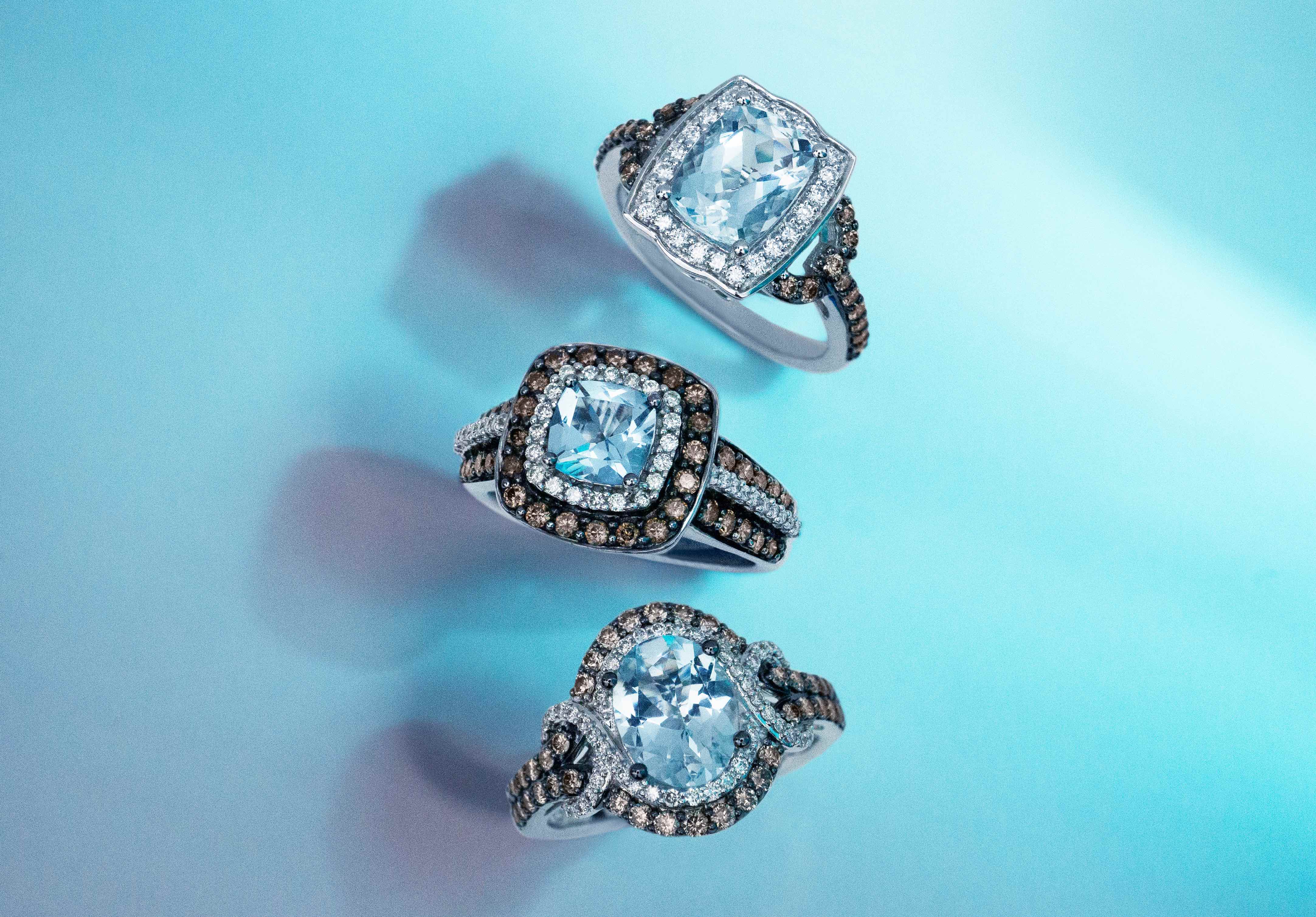 Aquamarine symbolizes serenity, harmony, tranquility, and purity. It represents the sea and the heavens, since the sky is reflected in bodies of water. The ancient Greeks and Romans treasured Aquamarine and used it to protect their beloved sailors, making it known as the "sailor's stone." Ancient Egyptians carved Aquamarine into the shapes of animals and wore it to preserve their energy and protect themselves from demise.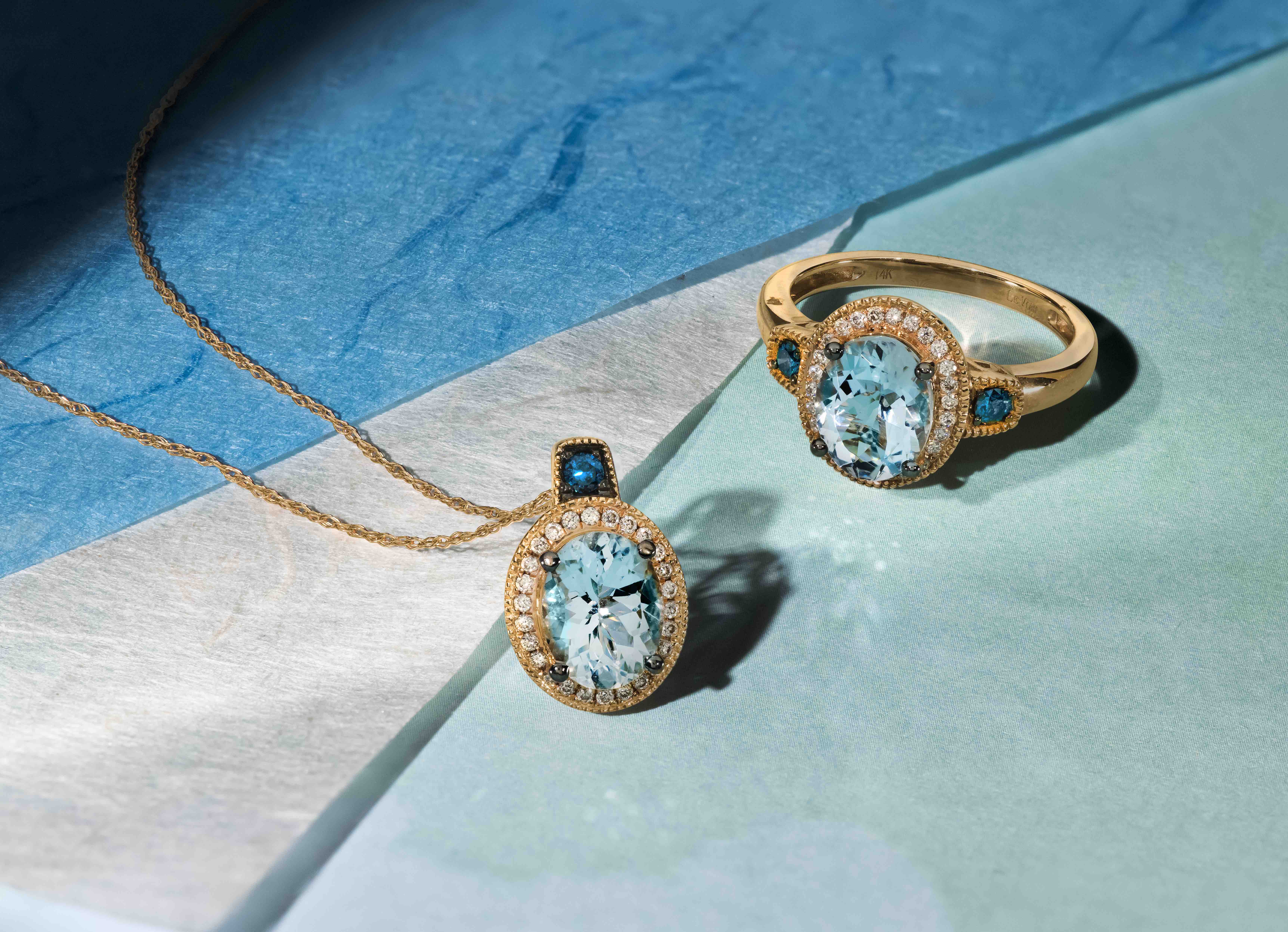 Le Vian's Sea Blue Aquamarine® pays homage to Aquamarine's rich history around the world. Each gemstone holds a soft, oceanic hue, sitting at a balance of blue and green, like the waves of the sea itself.
The Styles of the Sea
Like the Aquamarine of the world, Le Vian's Sea Blue Aquamarine® is crafted into different shapes, sizes, and styles. Every Sea Blue Aquamarine® piece is unique! Take a dive into our featured Sea Blue Aquamarine® beauties.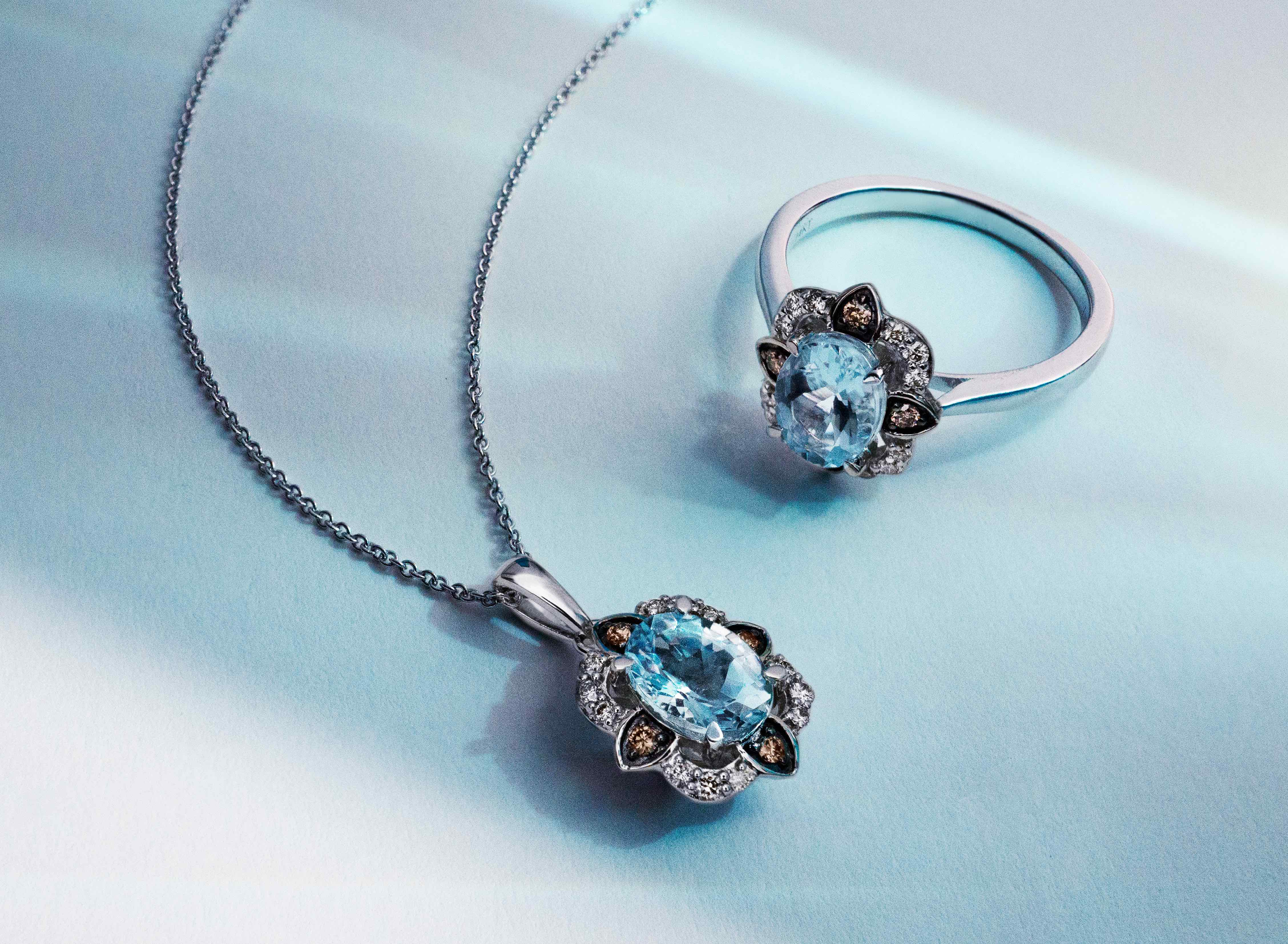 Le Vian's Baguette Frenzy® Aquamarine Ring is a traditional ring with a twist. This ring features a round-cut Sea Blue Aquamarine® center stone. Blush-toned Peach Morganite™ baguettes and round Nude Diamonds™ hug the center. The band is crafted in soft Strawberry Gold®, lined with a row of Nude Diamonds™ to further illuminate the ring. This ring is perfect for making a subtle statement with an elegant and modern flair! Wear this beauty to an oceanside resort or a spring picnic.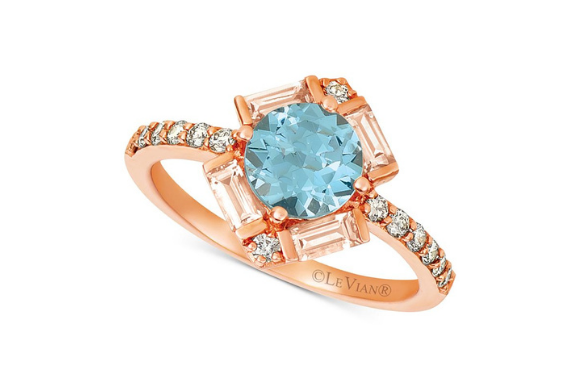 Le Vian's Floral Halo Aquamarine Ring is a perfect spring statement piece. A center stone of cushion-cut, serene Sea Blue Aquamarine® is surrounded by refreshing rows of Nude Diamonds™ and precise borders of milgrain detail. Larger diamonds extend outwards like petals, giving this ring a fabulously floral look. The band of this ring has the same delicate detail, and is lined with even more diamonds. This ring is perfect for setting a spring or summer outfit aglow, and for picnics, garden strolls, and all things spring.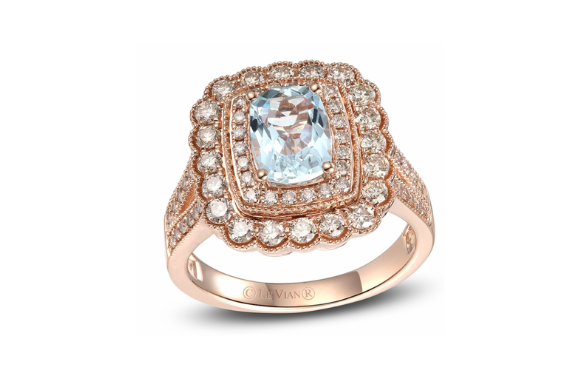 Le Vian's Aquamarine & Sapphire Necklace is an elegant, layered piece. A center stone of Sea Blue Aquamarine® is framed by a plentiful border of round Nude Diamonds™ that enhances Aquamarine's cool blue. Atop March's birthstone sits a single Blueberry Sapphire™ on its throne. The piece is completed with final accents of even more Nude Diamonds™ and is crafted in chilled 14K Vanilla Gold! This necklace is a bright, blue-hued delight reminiscent of vast oceans and clear skies. It is perfect for a warm day or summer soirée.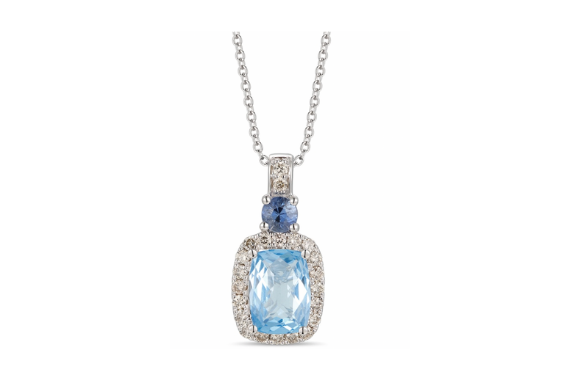 Le Vian's Creme Brulee® Leaves of Love Earrings connect us with fruitful nature with a fun dangle! This playful pair has a modern yet ornate style. Two cushion-cut center stones of Sea Blue Aquamarine® drop from a vine of leaves. Each leaf is adorned with decadent Chocolate Diamonds® or dazzling Nude Diamonds® in a botanic display. This sweet set is crafted in 14K Strawberry Gold®, making it a warm pair perfect for the upcoming seasons. A single, pointed leaf at the top elongates this pair, and frames the face beautifully. These drop earrings can be coupled with a tropical sundress or a sweet skirt for a chic, sunny style.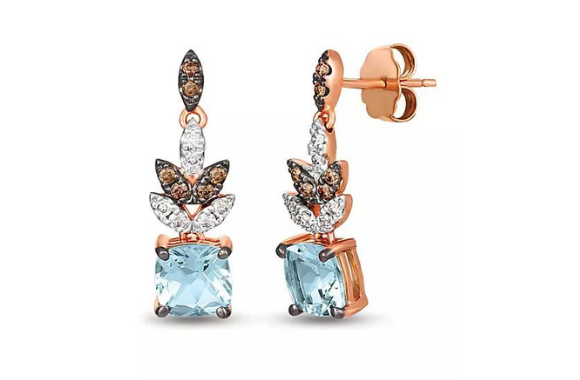 Sea Blue This Spring
Soar into spring with Le Vian Sea Blue Aquamarine®! This refreshing shade of blue is perfect with neutral or colorful outfits, and is a great staple gemstone for your summer wardrobe. Savor all of the shapes of Sea Blue Aquamarine®, like cushion-cut, round, emerald, oval, and more. Pair your center stones with energetic accents, like colorful gemstones, baguettes, petals, leaves, and more! What shape of Sea Blue Aquamarine® are you styling this season?