The Origins Of Yellow Diamonds and Le Vian's Touch
A yellow diamond will take billions of years deep beneath the earth's surface to form, but only a fraction of a second to fascinate us.
When you witness a beautiful sunrise in the morning, don't you feel rejuvenated with positive energy in your body? In light of this, Le Vian's Sunny Yellow Diamonds® radiate optimism and hope while stimulating creative thinking.
So how do fancy yellow diamonds take on their natural color? What are some of the spiritual benefits associated with them?
This article will answer both questions and provide intriguing facts regarding the heartwarming color gemstone.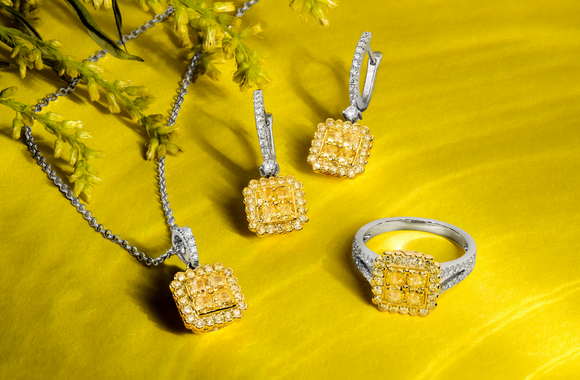 How are fancy yellow diamonds formed?
Fancy yellow diamonds, created over 3 billion years ago at hellish depths within the Earth's crust, are made of pure carbon atoms and crystallize under severe levels of pressure and heat.
During this natural occurrence, 1 earth-mined diamond out of 10,000 will have an extra element introduced into its crystal lattice during the formation phase.
In the case of yellow diamonds, this natural blending of carbon with chemical elements like nitrogen causes diamond coloration. It's only fair to mention that the amount of nitrogen in the diamond represents the intensity of the yellow color in terms of tone intensity.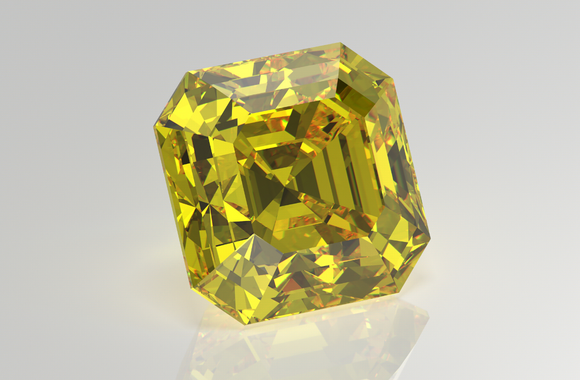 How is a
yellow diamond
graded?
Yellow diamonds are graded using GIA's 4Cs (carat, cut, clarity, color), which is the system that determines a diamond's quality and rarity characteristics.
For color grading, the process is further explored. If you love colored diamonds as we do, you've probably heard of the term 'fancy.'
In Layman's terms, any diamond that isn't white or transparent falls into this category.
To classify variations in yellow shades, the Gemological Institution of America has implemented a special classification scheme utilizing these 9 descriptors:
Faint

Very Light

Light

Fancy Light

Fancy

Fancy Dark

Fancy Intense

Fancy Deep

Fancy Vivid
The more intense the yellow hue of a diamond, the rarer it is found in nature. For example, Fancy Intense is referred to as canary diamonds for their warm, soft golden yellowish hues. Le Vian uses all the intensities shown above to craft its fascinating Sunny Yellow Diamonds® collection.
Many of the stones we use are certified diamonds, and we hand-select only the ones with flawless aesthetic qualities.
Spiritual beliefs associated with yellow diamonds
Yellow is the perfect choice of color for the creative-minded individual who is optimistic about the future.
Yellow diamonds bring joy, good fortune, contentment, and vigorously refined energy. They will boost your mind's creative side and balance your well-being and self-consciousness.
Similar to how you feel on a beautiful sunny day, it's a cheerful, uplifting color that naturally makes a person feel seductive, joyful, and lively.
A yellow diamond symbolizes growth, spiritual awakenings, rejuvenation, and purity.
In Indian spirituality, yellow diamonds are used to unblock the Solar Plexus, also called Manipura, which refers to the third chakra.
It promotes love and clarity in relationships, fostering commitment and trust. It instills constancy, encouraging faithfulness and commitment in both situations. It is a powerful attractor of the manifestation of abundance.
Yellow, last but not least, symbolizes progress. A testament that you will shine and progress in a specific area of your life.
A piece of Le Vian's
yellow diamond jewelry
means
If you want to make it chic, yellow is the way to go.
Yellow diamonds make impressive jewelry, from cocktail rings and yellow diamond stud earrings to awe-inspiring pendant necklaces.
For a non-traditional marriage proposal, yellow diamond engagement rings are a standout alternative if you prefer a warmer and more playful center stone.
Yellow diamonds exude vitality and make their presence felt in any room. Below are a few selected pieces from our Sunny Yellow Diamonds® Collection to demonstrate their beauty.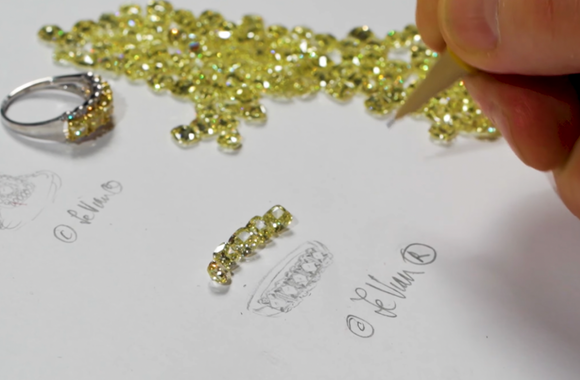 Couture
Yellow Diamond Ring
This fancy yellow diamond ring by Le Vian is certainly a scene-stealer.
Our three-stone cushion-cut yellow diamond engagement ring is ideal for modern brides. The shank's semi-pavé setting merging to 3 halos of white Vanilla Diamonds® on the ring's head is bound to add a little more sweetened sparkle to your finger.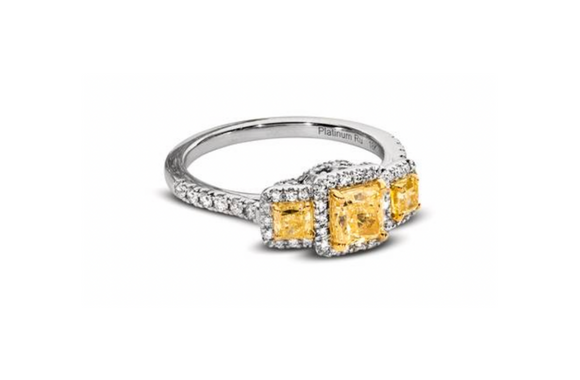 Flamboyant
Yellow Diamond Necklace
Here, we have a striking yellow diamond necklace featuring a cushion-cut Sunny Yellow Diamond® at the bottom, topped with a trinity of dainty round-cut Vanilla Diamonds® — signed Le Vian.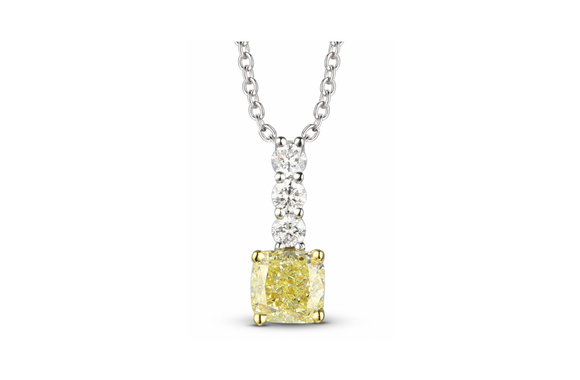 Dainty
Yellow Diamond Stud Earrings
Simplicity is often key. This sensational pair of studded diamond earrings feature round-cut Vanilla Diamonds® in perfect harmony with larger cushion-cut Sunny Yellow Diamonds — a timeless design that boasts elegance and class.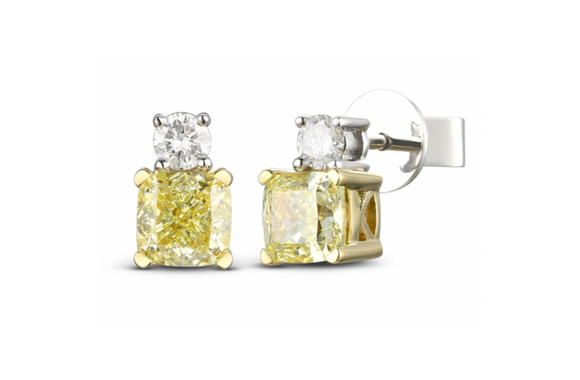 We hope you've enjoyed reading this piece as much as we've enjoyed putting it together!
In a nutshell, yellow diamonds are gorgeous and rare gifts from mother nature that can bring extra sunshine into your life and embellish your daily appearance.
Guess which 1950s Hollywood icon wore a gorgeous 24-carat yellow diamond necklace the best?
All of our Sunny Yellow Diamonds are cushion-cut, a delicate shape with soft edges blending the squarish layout of the princess-cut with the rounded edges of the round brilliant.
Discover our carefully curated pieces in this optimistic collection — masterfully handcrafted by our in-house experts.
[Shop Sunny Yellow Diamond Collection]