Wear the January Birthstones: Pomegranate Garnet™ and Raspberry Rhodolite™
Wear the January Birthstones: Pomegranate Garnet™ and Raspberry Rhodolite™
Happy New Year and happy January! Welcome to 2022, a year of new hope, possibility, and endless opportunities. The gemstones of January are tart and sweet, and our favorite treats. The Le Vian birthstones for this month are two of our most succulent stones: Pomegranate Garnet™ and Raspberry Rhodolite™!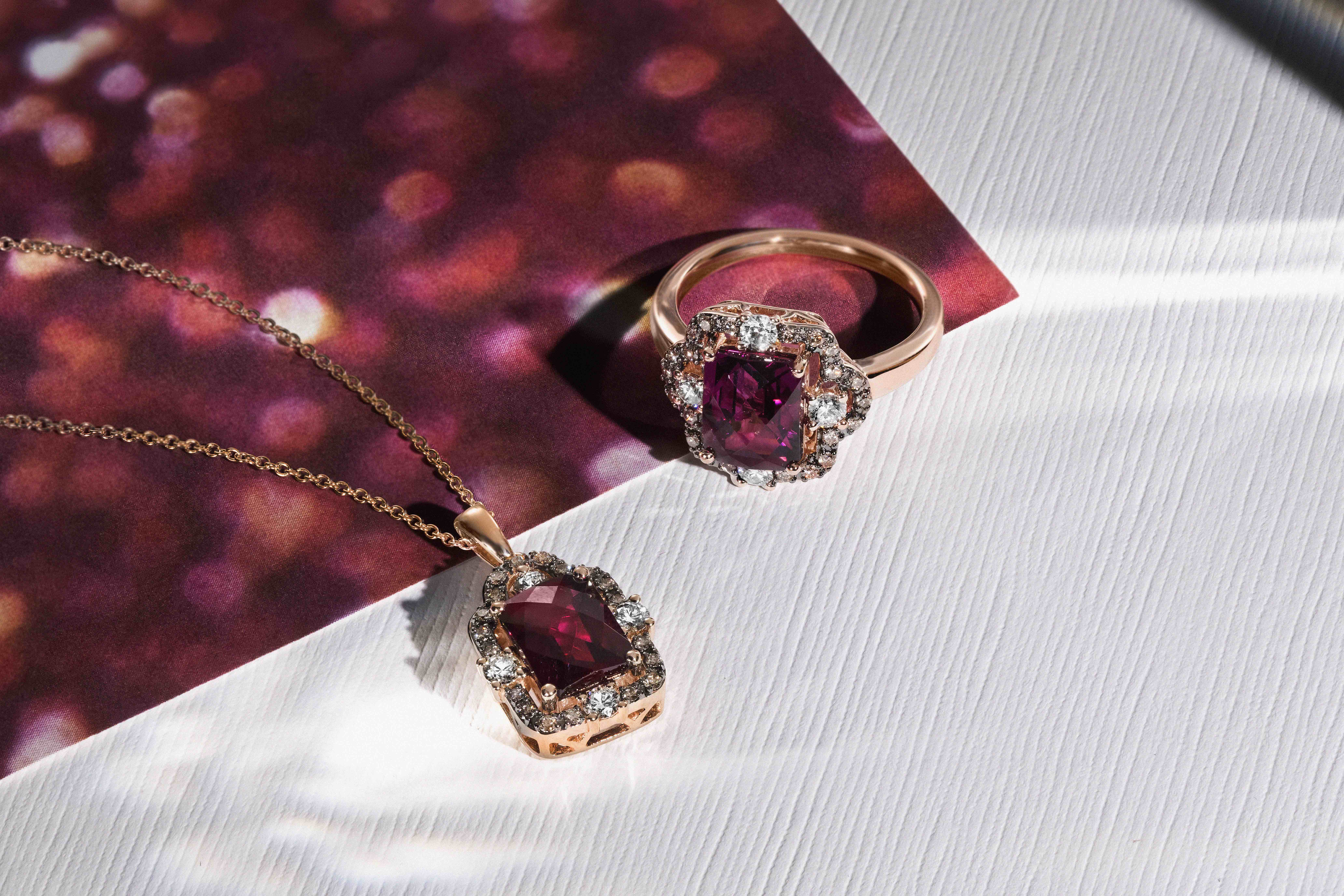 Both Pomegranate Garnet™ and Raspberry Rhodolite™ have deep, berry-red hues with warm tinges of pink and magenta. Pink tones uplift these stones and give them a cheery vibrancy that makes them resemble these fresh fruits. Magenta tones add a seductive and charming edge to these stones, making them enticing, feminine, and perfect for black dresses and special occasions.
Le Vian Pomegranate Garnet™ and Raspberry Rhodolite™ pieces come in a wide variety, with pieces of all shapes and sizes. Styles for these stones are unique and chic. Take a dive into our highly recommended and featured Pomegranate Garnet™ and Raspberry Rhodolite™ pieces!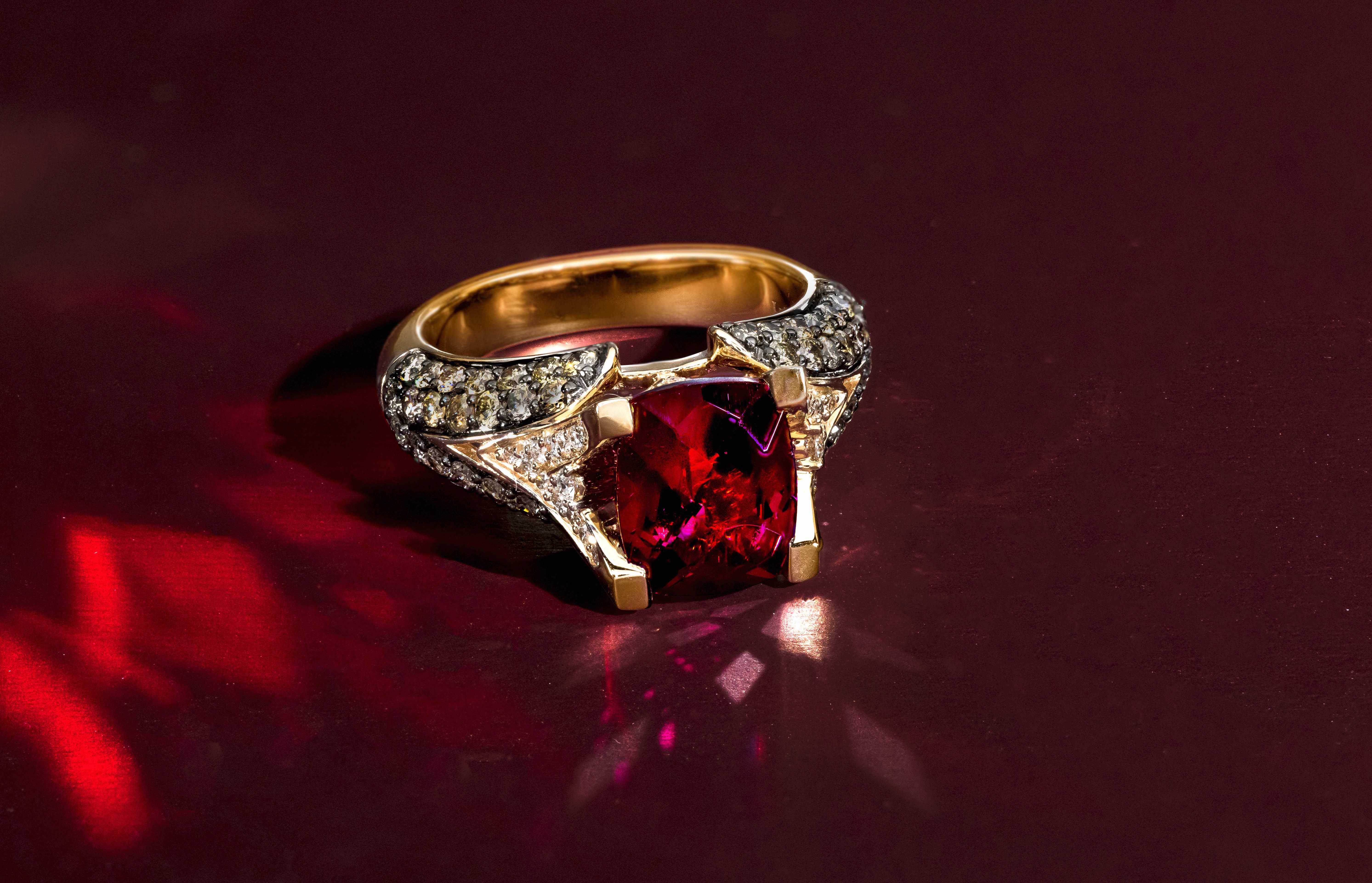 Regal Rings
One of Le Vian's most popular and most universal January birthstone rings is our Oval-Cut Floral Raspberry Rhodolite™ Ring. This ring features an oval-cut center stone of merlot-toned Raspberry Rhodolite™, haloed by floral rosettes of Nude Diamonds™ to make an elegant flower. To make the center stone pop, the band is lined with decadent Chocolate Diamonds®. This ring is set in 14K Strawberry Gold®, adding to the sweet and fruity feel of this piece. It is a perfect everyday staple, with deep tones like fine wine for the fall and winter season and a fun and floral theme for the spring and summer seasons. It also pairs beautifully with dresses and jumpsuits for elegant occasions. This loving ring can even be an engagement ring. See this ring and its matching pendant necklace below!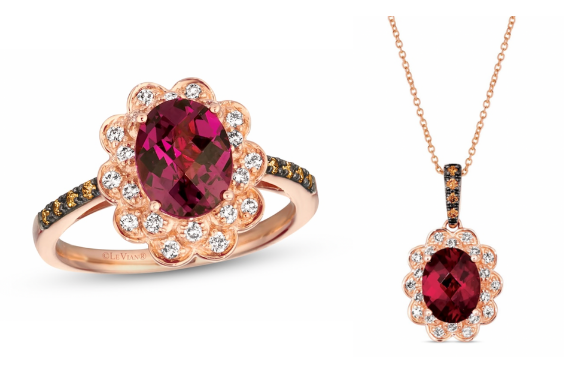 Another standout Le Vian January birthstone ring is our Oval-Cut Regal Frame Pomegranate Garnet™ Ring. This ring presents an oval-cut center stone of intense Pomegranate Garnet™, framed with a halo of Nude Diamond™ that meet in points. This frame is supported by an ornate structure of intertwining 14K Strawberry Gold® loops. Trims of Chocolate Diamonds® further line the setting, highlighting the Nude Diamond™ halo. The ornate yet modern design of this ring's structure as well as its passionate Pomegranate Garnet™ give it a grand and regal quality. This ring is well suited for classy events where you want to show your strength, or on confident nights out in the city. It can even be a show-stopping alternate engagement ring! It is part of a collection featuring earrings and a necklace as well. View this ring and its collection below!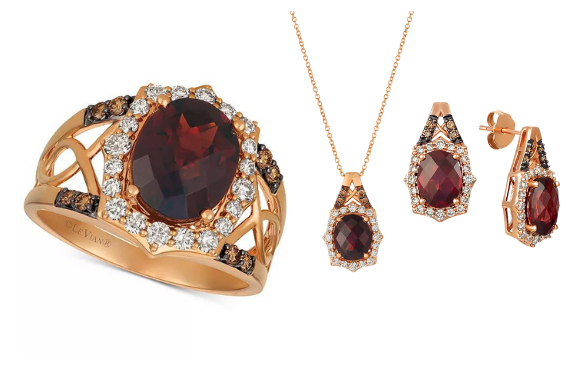 Notable Necklaces

One of Le Vian's most unique January birthstone necklaces is our Pomegranate Garnet™ Love Necklace. This necklace features the word "love" with a heart-cut Pomegranate Garnet™ gemstone as the letter O. The word is traced in glistening Nude Diamonds™, which give it a powerful vibrancy. It is set in crisp 14K Honey Gold®, making the deep red of the heart and white radiance of the diamonds striking. One of Le Vian's 2022 trends is Love, focusing on heart-shaped gemstones and love messages written in our jewelry. This piece embraces our 2022 trend and is an affectionate, personal gift to a loved one or to your beloved self. See this necklace and its matching ring below!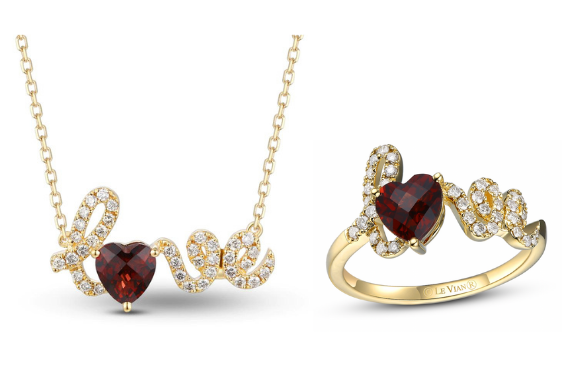 A featured Le Vian piece is our Pear-Shaped Double Halo Pomegranate Garnet™ Necklace. A pear-shaped center stone of Pomegranate Garnet™ is haloed by Nude Diamonds™ first, then by Chocolate Diamonds®. These halos trace the pear shape to emit a glowing and grand aura in a refined and modern style. The outer Chocolate halo is decorated with four round-cut Pomegranate Garnets™ at its peaks, framing the pendant and tying the piece together. This necklace is a sophisticated piece perfect for pairing with elegant black and deep shade outfits, such as a black or merlot gown or neutral-toned jumpsuit. Take a look at this 14K Strawberry Gold® necklace and its matching ring below.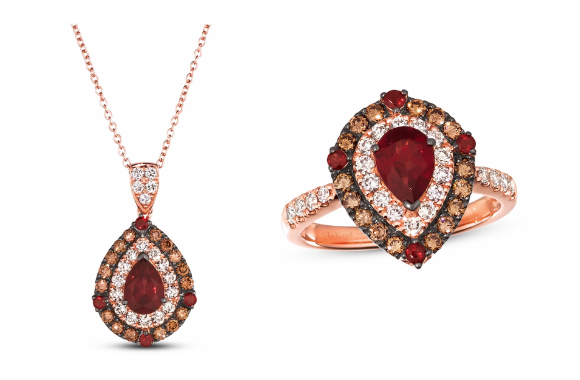 Enchanting Earrings
Our Raspberry Rhodolite™ and Pomegranate Garnet™ earrings come in a wide variety of shapes, sizes, and styles. One of our featured pairs are these Ornate Oval Cut Raspberry Rhodolite™ Earrings. These earrings present two oval cut Raspberry Rhodolite™ center stones. Each gemstone is showcased within an ornate frame embellished with Nude Diamonds™, giving them a sunshine-esque radiance. These earrings are crafted in soft and sweet 14K Strawberry Gold®, adding to the warmth of the piece. This pair is fit for any season, as it exhibits a warm and floral feeling we crave in the summer and spring and a sleek, passionate red hue that we desire in the fall and winter. View these earrings and their collection below!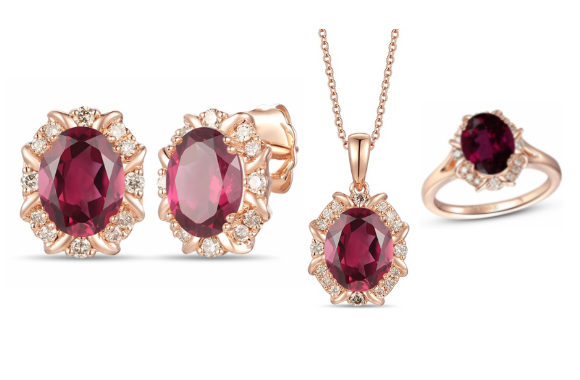 One of our most popular pairs is the Pear Shaped Raspberry Rhodolite™ Earrings. A center stone of tart Raspberry Rhodolite™ is set aglow by a halo of Nude Diamonds™. This pair is set in radiant 14K Vanilla Gold®, making it look crisp and polished. These earrings are a simple pair, perfect to wear with any outfit and in any season. They can be everyday essentials, or a flair for any special occasion! Peek at this pair and its collection below.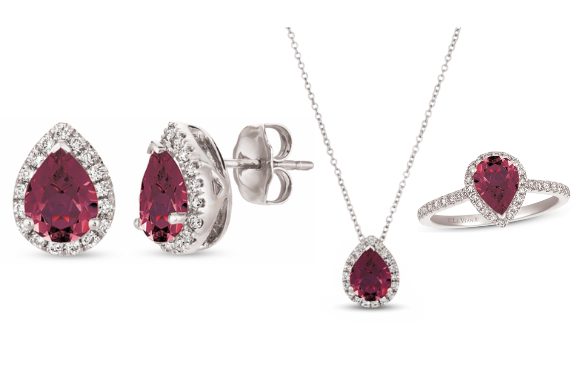 January's Gemstones
Satisfy your sweet tooth with Le Vian Pomegranate Garnet™ and Raspberry Rhodolite™, January's gorgeous gemstones. Whether you're looking for a ring, necklace, bracelet, or pair of earrings, there is a piece for you. Our featured pieces showcase the tantalizing range of January birthstone pieces, from styles chic to ornate. There are even more Pomegranate Garnet™ and Raspberry Rhodolite™ pieces to explore at Macy's, Jared The Galleria of Jewelry, and Kay Jewelers, online and in store! You can also explore more Le Vian pieces at your local Le Vian dealer, or at exclusive trunk shows. Treat yourself to a Le Vian Pomegranate Garnet™ and Raspberry Rhodolite™ this month!